It has outstanding accessibility. The ski resort is 1 hour from Itsukushima Shrine, a World heritage site, by car and it is also only 2 km from the Yoshiwa IC on the Chugoku Expressway. One-day ski trip is recommended during your Hiroshima sightseeing stay! It is a casual ski resort with an Onsen hot spring and annexed accommodation.
"Varieties of courses are offered from beginners to experts to enjoy. Artificial snow machines allow you to ski safely on thick, snowy slopes from the beginning of the season.
Rental service and in-house shops offer selections of goods, so you can ski or snowboard right away even if you come luggage free!
It is open all night every Saturday! You can arrange your time efficiently by utilizing the night-skiing opportunity.
Every Saturday is Kids Day and a lift ticket is 1,000 yen for elementary school children.
Every month any dates ending with a ""5"" are Ladies' Day and a lift ticket is 500 yen for all women.
Please enjoy the annexed Onsen hot spring after skiing. You can enjoy an open-air bath that is made from a 45,000-year-aged big tree as well as 13 different kinds of bath facilities where you can bathe with swimsuits. "

WEATHER INFORMATION
--


Snow Cover


>Weekly Weather

Weather

--

Snow Quality

21

℃

Temperature

---

Situation
COURSE GUIDE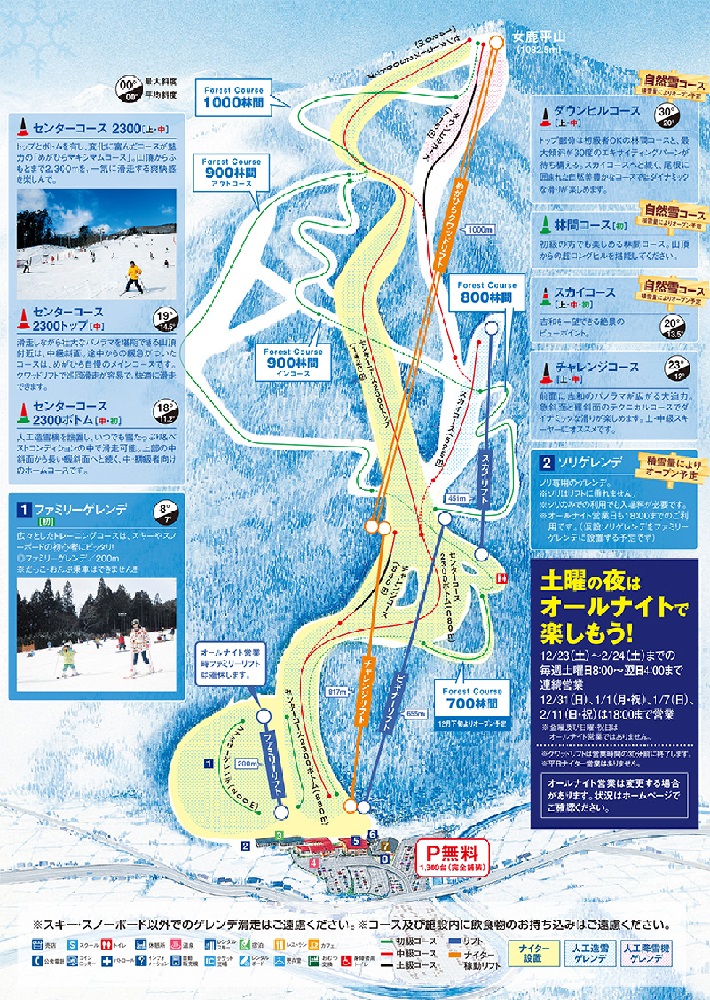 ELEVATION
1,066m
SUMMIT
593m
SKI CENTER
Beginner
30%
Intermediate
60%
Advanced
10%
Non-groomed
20%
Groomed
80%
Number of Courses

7

Slope Gradient(degrees)

30°

Longest Run(m)

2,300
PRICE(YEN)
Lift Tickets(1day)
Adult Lift Ticket

5,500yen

Junior Lift Ticket

4,000yen
Rentals(1day)
Ski Set

4,200yen

Snowboard Set

4,200yen

Wear

4,200yen
SCHOOL TYPE
Lessons
Ski

◯

Snowboard

◯
Lesson Languages
English

×

Chinese

×

Korean

×
Lesson Fees(Yen)
Adult Lesson

3,000yen~

Junior Lesson

2,000yen~
PHOTO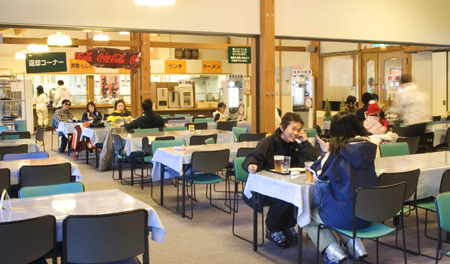 Restaurant
Megahira Ski & Snow Resort INFORMATION
Snow Resort Name
Megahira Ski & Snow Resort
Address
738-0301 Yoshiwa 4301, Hakkaichi-shi, Hiroshima-ken
Official Website
Open Date
Dec.11,2020
Dec.02,2017
Close Date
Mar.14,2021
Mar.18,2018
Business Hours
Weekdays 8:00-17:00
Weekends and Holidays 8:00-18:00
Night Skiing 18:00-04:00(12/23~2/24 Every Saturday)
Parking
1,300Cars
Park
available(Kids' Park)
Staff
English 〇 Chinese × Korean ×
Snow School Lessons
English × Chinese × Korean ×
Brochures
English 〇 Chinese × Korean ×
Course Map
English 〇 Chinese × Korean ×
Ski Field Signs
English × Chinese × Korean ×
Food Menu
English × Chinese × Korean ×
Wifi Spot
〇
Credit Cards Accepted
Hotel Name
Megahira Onsen Quelle Yoshiwa
Hotel Address
738-0301 Yoshiwa 4291, Hakkaichi-shi, Hiroshima-ken
Accommodation Official Website
Price per Room (Yen)

1 night stay with 1 breakfast and 1 dinner

Twin 12,960円~Yen
SNS Account
ACCESS
By Car

Sanyo Expressway Hiroshima IC→Hiroshim JCT→Chugoku Expressway→Yoshiwa IC→Route186→Route296→Megahira Ski & Snow Resort(45min)

Parking Capacity

1,300

By Train

Hiroshima station→Miyauchikushido station on Sanyo-honsen line→Hiroden Bus bound for Yoshiwa→"Quelle Yoshiwa Mae" bus stop→Walk(2min)→Megahira Ski & Snow Resort(1hr50min)

Hiroshima Airport

Hiroshima Airport→Limousine Bus(45min)→Hiroshima station→Train(20min)→Miyauchikushido station on Sanyo-honsen line→Hiroden Bus bound for Yoshiwa(1hr20min)→"Quelle Yoshiwa Mae" bus stop→Walk(2min)→Megahira Ski & Snow Resort

Fukuoka Airport

Fukuoka Airport station→Train(2hr)→Miyauchikushido station on Sanyo-honsen line→Hiroden Bus bound for Yoshiwa(1hr20min)→"Quelle Yoshiwa Mae" bus stop→Walk(2min)→Megahira Ski & Snow Resort

Okayama Airport

Okayama Airport→Bus(30min)→Okayama station→Train(60min)→Miyauchikushido station on Sanyo-honsen line→Hiroden Bus bound for Yoshiwa(1hr20min)→"Quelle Yoshiwa Mae" bus stop→Walk(2min)→Megahira Ski & Snow Resort