Ski and stay at eight ski resorts in the Echigoyuzawa area! Save this winter with the SUBERI MEGURI accommodation and ski lift ticket package!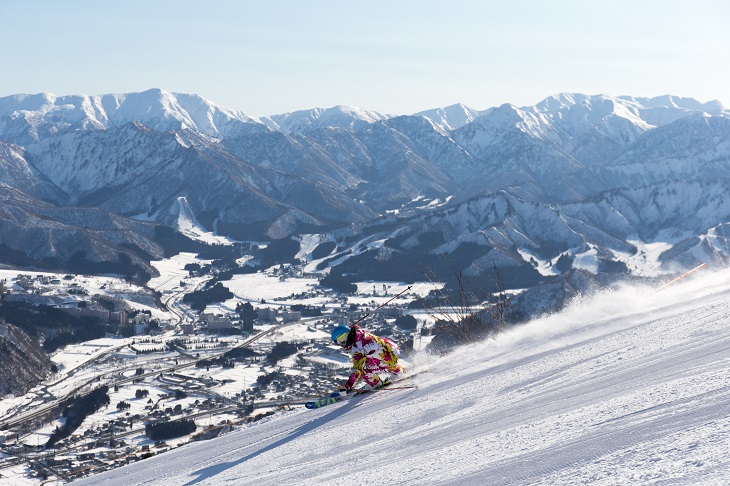 The Echigoyuzawa area in Niigata Prefecture is one of the distinctive snowy areas in Japan, with deep snowfall in the winter. It has many ski resorts that can be accessed by bullet train via Echigoyuzawa Station with the Joetsu Shinkansen or the Yuzawa Interchange/Shiozawa-ishiuchi Interchange by car. Almost all ski resorts are in close vicinity to train stations or expressway interchanges, making travel convenient from the Greater Tokyo Area.
About the SUBERI MEGURI accommodation and ski lift ticket package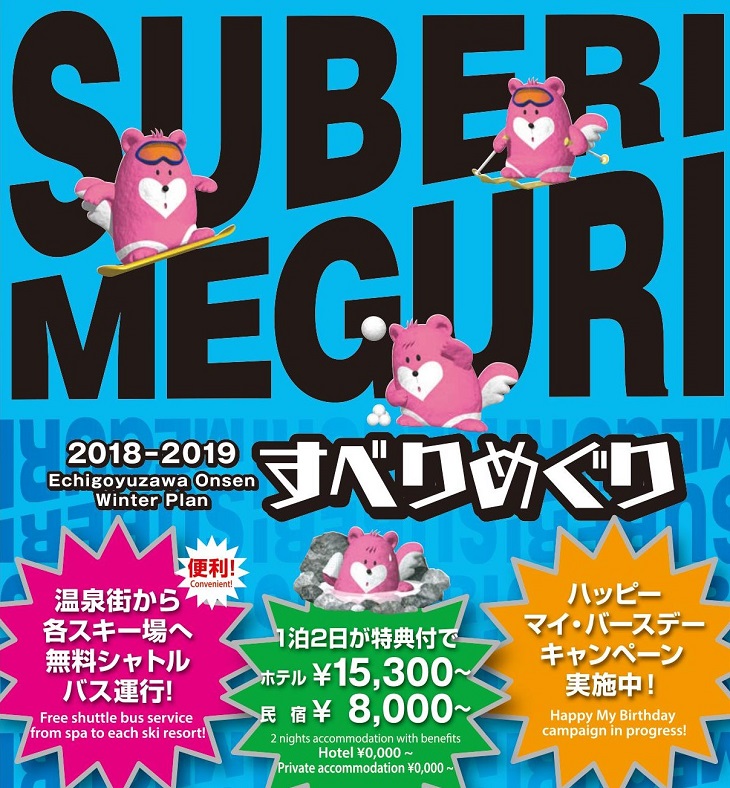 The SUBERI MEGURI package offers a one-night stay with dinner and breakfast at partner accommodations in the Echigoyuzawa area, along with a one-day ski lift ticket that can be used in eight neighboring ski resorts: GALA Yuzawa, Yuzawa Kogen, Ipponsugi, NASPA Ski Garden, Kandatsu Kogen, Iwappara, Yuzawa Park and Yuzawa Nakazato. One-day ski lift tickets usually cost around \4,000 to \5,000, but the SUBERI MEGURI package offers accommodation and a one-day lift ticket for \8,000 per person (however, the package is only available for two or more people), which is a tremendous bargain for ski/snowboarding holidays!
SUBERI MEGURI benefits, offering various snow experiences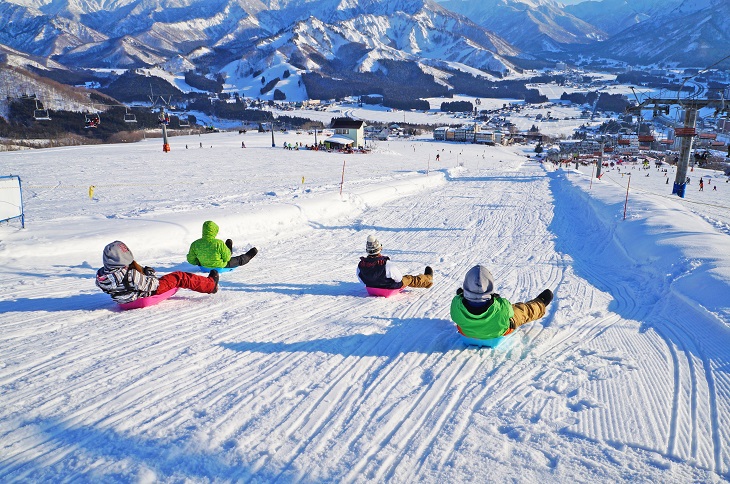 Although this type of accommodation package is fairly popular, SUBERI MEGURI offers more ways to enjoy the entire Echigoyuzawa area. One such way is that one-day ski lift tickets can be changed into two half-day tickets. Visitors who leave their home in the morning and purchase tickets after arriving at the ski resort will not be able to take full advantage of one-day ski lift tickets. Having half-day tickets will allow visitors to enjoy the slopes in the afternoon on the day they arrive and the next morning as well, and go sightseeing/hot spring hopping in the afternoon before going home. Furthermore, the ski lift tickets can also be used to enter kids parks at the ski resorts, making it very convenient for families with small children who are not ready for the slopes yet.
Lift tickets can also be exchanged for Yu-tan vouchers that can be used locally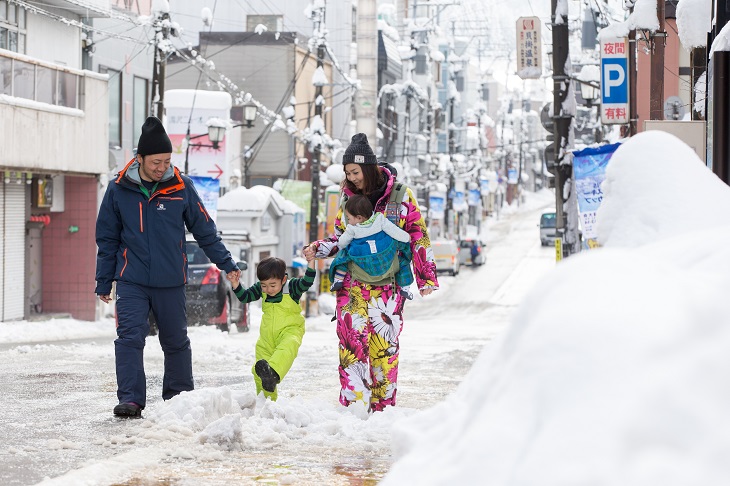 The ski lift tickets can be exchanged for Yu-tan vouchers, which can be used in local Echigoyuzawa stores. Yu-tan vouchers are regional currency vouchers that can be used in the Yuzawa Onsen area gift shops and restaurants, and each half-day ticket can be exchanged for a \1,000 voucher. This will allow visitors to customize their winter vacation experience, such as enjoying a half day of skiing or snowboarding, and using the other half day ticket for Yu-tan vouchers to explore the hot spring town.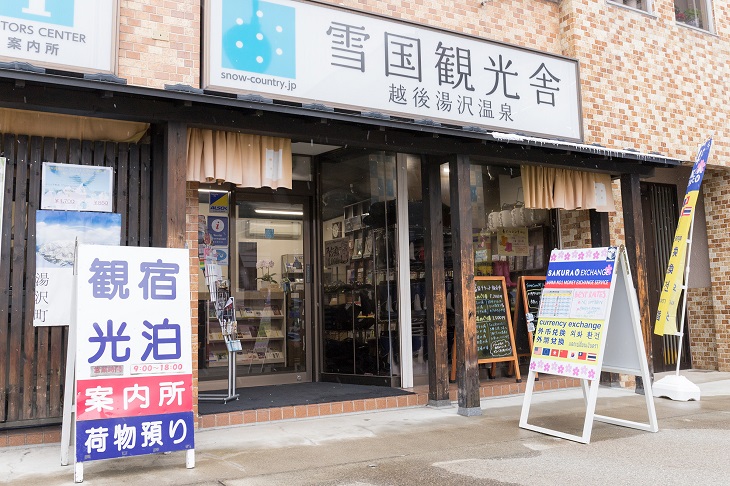 Yu-tan voucher exchanges can be made at the Snow Country Tourism Zone Information Center (Echigoyuzawa Onsen Tourist Association). Additionally, visitors visiting on their birthday can report to the Snow Country Tourism Zone Information Center and show their ID for proof to receive a Birthday Card, which can be used for various perks at the ski resorts or local shops.
Enjoy the hot spring town with the wonderful "snow country" ambience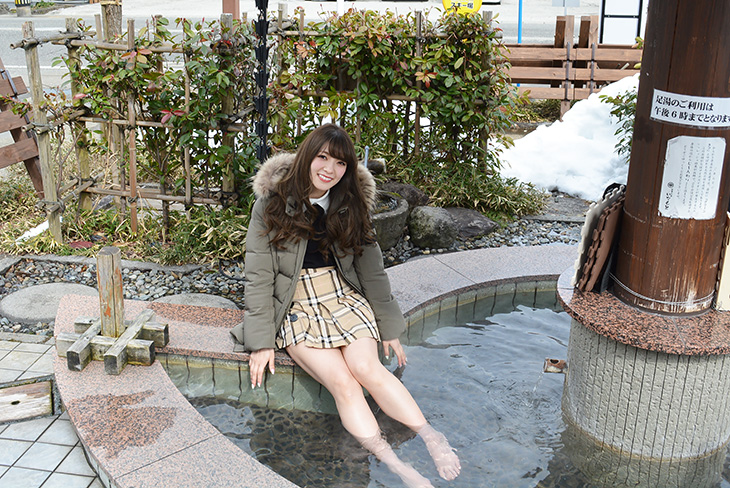 The hot springs in the Echigoyuzawa area have a history of 800 years. It is popular as a spa-treatment destination from ancient times, with many hot spring facilities and footbaths scattered around the town. The region also offers cozy guesthouses and long-established inns with hot springs.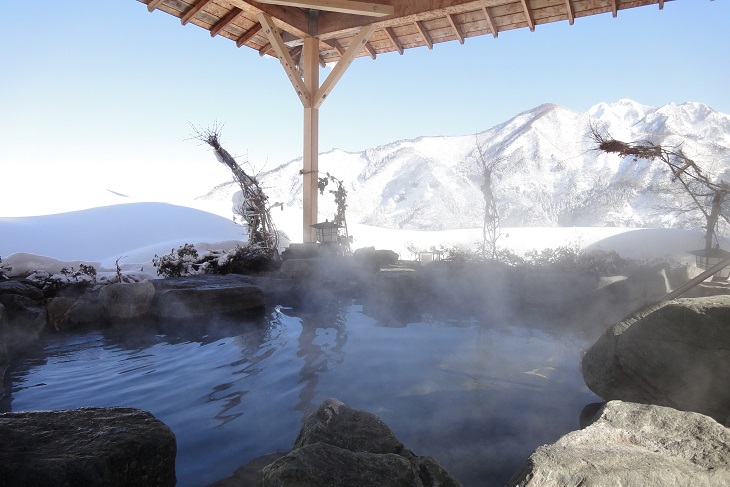 One popular way to enjoy a hot spring town is to visit various community spas, such as those operated by ski resorts or the town's public bathhouses. Although the snow on roads may be removed or thawed by melting systems, having footwear such as boots will allow for easier walking. The Snow Country Tourism Zone Information Center in front of the Echigoyuzawa Station offer rental boots for \500/day, perfect for strolls to the hot springs.
Experience the ultimate winter vacation with pristine snow, hot springs and sightseeing with the SUBERI MEGURI package!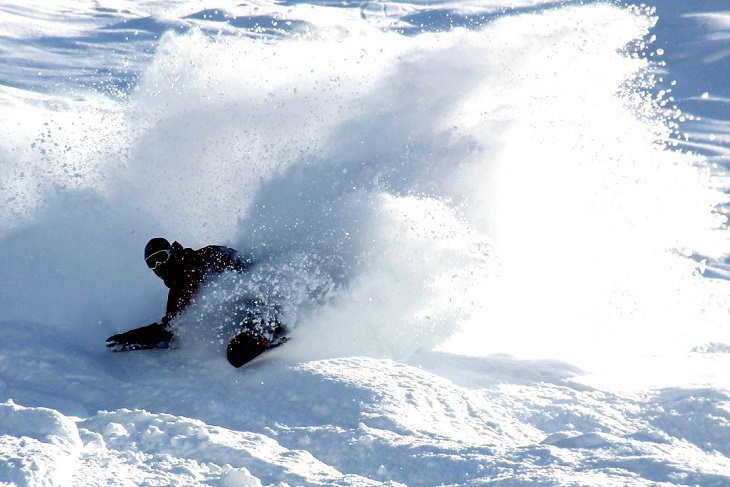 The Echigoyuzawa area is one of the areas to receive the most snowfall in Japan, allowing visitors to enjoy skiing/snowboarding on plentiful, high-quality snow. Free shuttle buses run from the Echigoyuzawa Station and major facilities in the hot spring town to the slopes, offering convenient and comfortable access between the train station, accommodations and ski resorts. Reap more benefits with value plans such as the SUBERI MEGURI accommodation package! Make sure to book the SUBERI MEGURI package through the Snow Country Tourism Zone Information Center. Detailed information such as how to exchange lift tickets, partner lodging facilities and more can be viewed at the official website.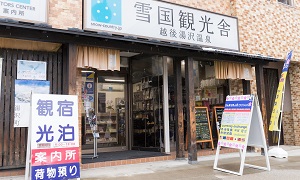 Inquiries on SUBERI MEGURI
Snow Country Tourism Zone Information Center
TEL:025-785-5353
Business hours 9:00 a.m.–6:00 p.m. (Open every day)
Text : Chiho Kuriyama
Facility Information
Snow Country Tourism Information Center
Address

2431-1 Yuzawa, Yuzawa-machi, Minamiuonuma-gun, Niigata 949-6101
Notes

Access: At the west exit, Echigo Yuzawa station, Joetsu Shinkansen
Map