Just 70 minutes from Tokyo to "Snow Country." Enjoy the snowy scenery, snow activities, and a soak in an onsen with a money-saving combo ticket!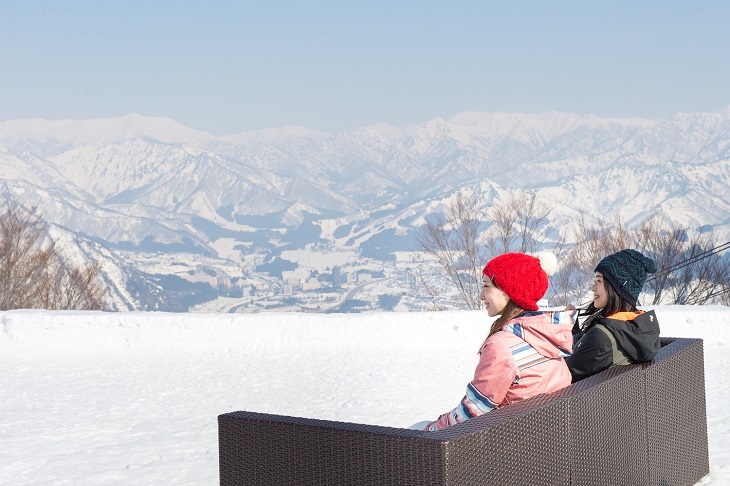 The Nobel literature laureate Yasunari Kawabata's "Snow Country" begins with the line, "The train came out of the long tunnel into the snow country." He set this famous novel in Echigo-Yuzawa, Niigata Prefecture. Although more than 70 years have passed since he published the novel, the scenery of the place that seems to come straight out of the opening line has not changed. When the Shinkansen from Tokyo to Echigo-Yuzawa Onsen emerges from the tunnel at the prefectural border, what you see unfold is a town covered in a blanket of deep snow. Today, the Shinkansen delivers you straight to Echigo-Yuzawa from Tokyo in just 70 minutes! This makes Echigo-Yuzawa an easy "Snow Country" to visit. There are several ski resorts enveloping the town, creating a destination where you can take in all sorts of winter activities over and above skiing and snowboarding.
Get a combo ticket to gain the maximum pleasure of winter while saving money!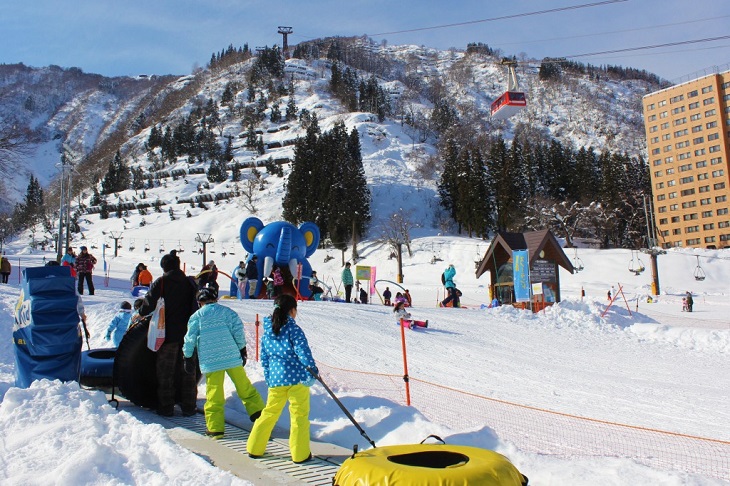 Echigo-Yuzawa Station, the nearest station to Echigo-Yuzawa Onsen, is just 70 minutes from Tokyo by Shinkansen. Besides its easy access from Tokyo, the place is known as an area that receives some of Japan's heaviest snowfalls, and it's amazing to see how much snow piles up. If you visit the town in winter, be sure to get a combo ticket that can be used at Yuzawa Kogen Ski Resort to take advantage of the winter activities and onsen facilities. Available for just 3,000 yen, this value includes the fare for the ropeway cable car, your entry fee for Snow Land, the Komakusa no Yu (onsen) admission fee, and onsen salts. Save money while indulging in these wonderful winter activities.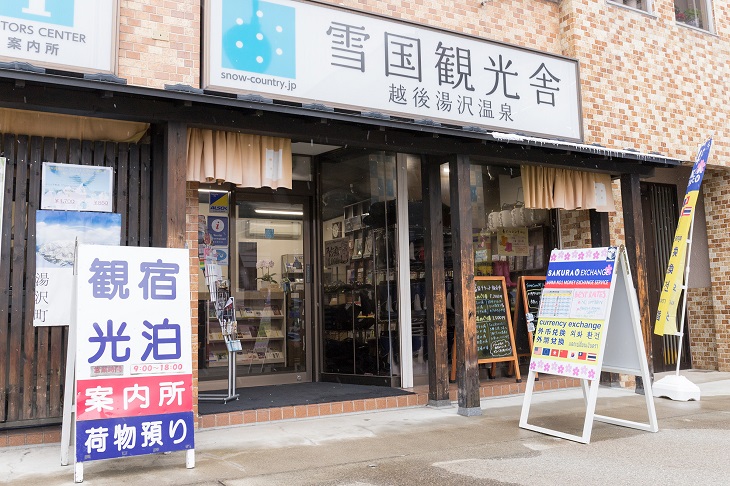 The combo ticket is available at "Snow Country Tourism Zone Information Center" (Echigo-Yuzawa Onsen Tourism Association), which is located in front of the west exit of Echigo-Yuzawa Station. When you arrive at Echigo-Yuzawa Station, the first thing to do is visit Snow Country Tourism Zone Information Center and buy a voucher for a combo ticket at the counter. Bring the voucher to Yuzawa Kogen Ski Resort where you can exchange it for a combo ticket.
Live it up in Yuzawa Kogen Ski Resort - walking distance from the onsen resort.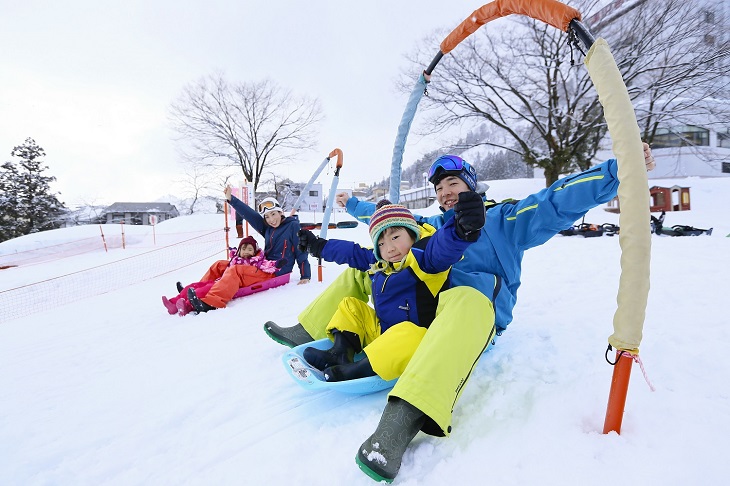 The onsen resort around Echigo-Yuzawa Station has a delightful atmosphere. During winter, you'll see so much snow piled up that it forms snow walls along the streets that are higher than a human is tall! Groundwater pipes are installed in the streets to melt snow so people and vehicles can come and go easily. Yuzawa Kogen Ski Resort is located right in the heart of the onsen resort. This ski resort offers easy access: it is about 800 meters, about an eight-minute walk, from the west exit of Echigo-Yuzawa Station.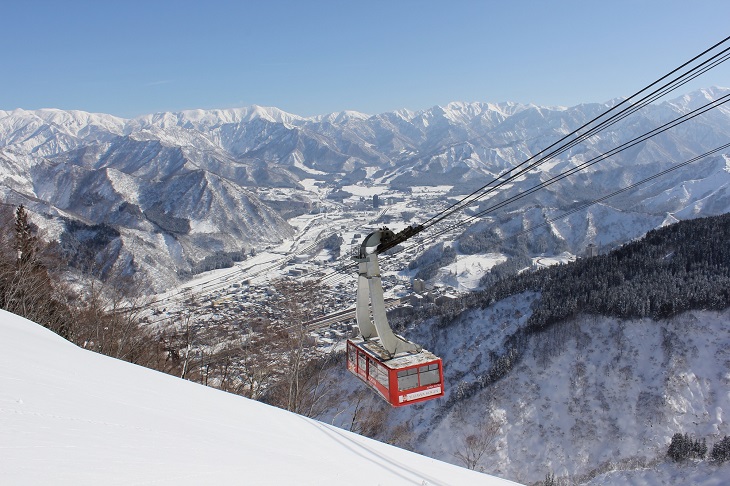 While you're at Yuzawa Kogen Ski Resort, take a ride in one of the world's biggest ropeway cable car – it can hold up to 166 people! Even if you're a sightseer and not a skier, it's an experience not to miss. The cable car ascends from the foot to the top of the mountain without making any stops along the way. The ropeway is 1,300 meters long and rises 500 meters from its lowest to highest points. The seven-minute ride gives you the feeling of walking on air while enjoying a panoramic view of the snowy scenery from the expansive windows.
Catch a breathtaking view of Yuzawa from the terrace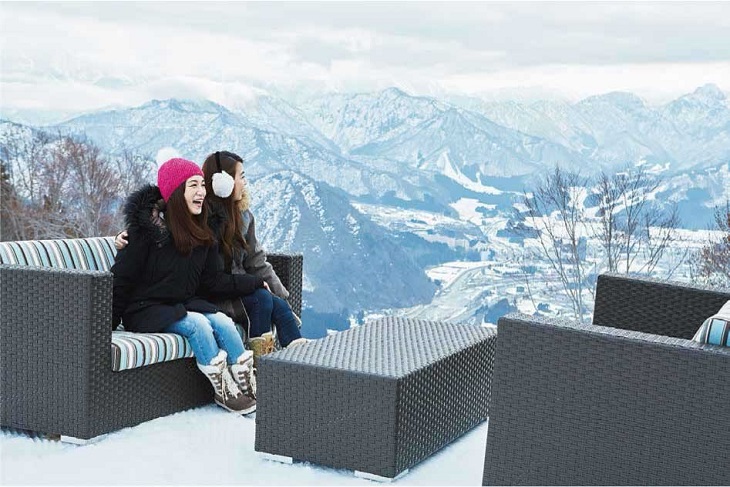 When you get off the cable car, the scenery of beautiful snowy mountainsides, which are over 1,000 meters high, will be laid out before your eyes. Outside the ropeway station is a terrace with sofas and tables arranged on the snow. A magnet for visitors, this spot provides a commanding view of the snow-covered Yuzawa townscape as well as Mount Tanigawa. In winter, the air is crisp and the mountainous backdrop is breathtaking.
Enjoy a magnificent view with a cup of tea or authentic Italian food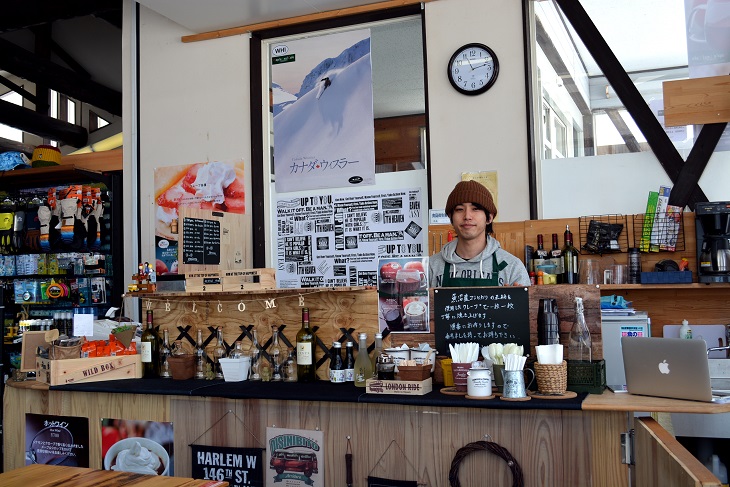 Situated next to the terrace, "Kumo no Ue no Café," offers a café-style menu with tempting items such as its special crepe, which uses rice powder produced in Uonuma, and delectable hot chocolate. Enjoy a special tea break out on the terrace with its awe-inspiring view. It's also nice to spend a leisurely time in the warm café enjoying the snowy scenery from the window.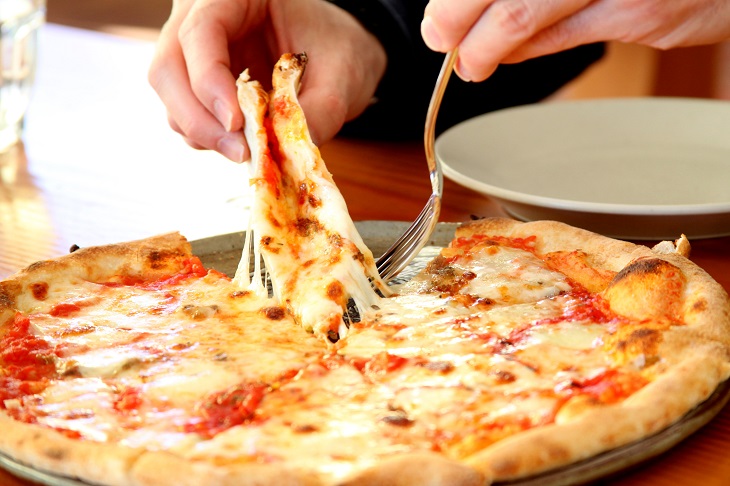 There's also Italian restaurant "Alpina," located a short way from the ropeway's mountaintop station. This popular gourmet destination is designed like an alpine log cabin and serves authentic Italian dishes such as pizza and pasta.
Two "Snow Lands" –fun and safe for families with small children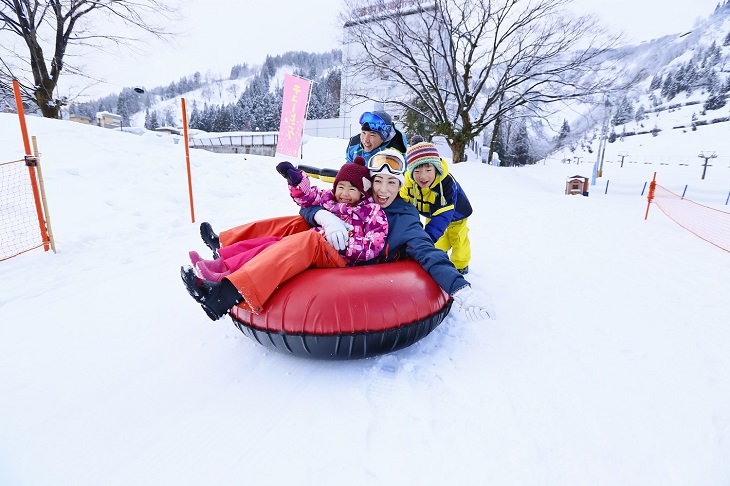 Yuzawa Kogen Ski Resort features two Snow Lands that offer snow activities, such as sledding, and are very popular with families with children. In "Nunoba Snow Land" at the mountain foot, not only are snow escalators available to enjoy sledding and a snow strider, but the kids will love the inflatable slides. It's an ideal place for parents and children to have a ball playing in the snow together.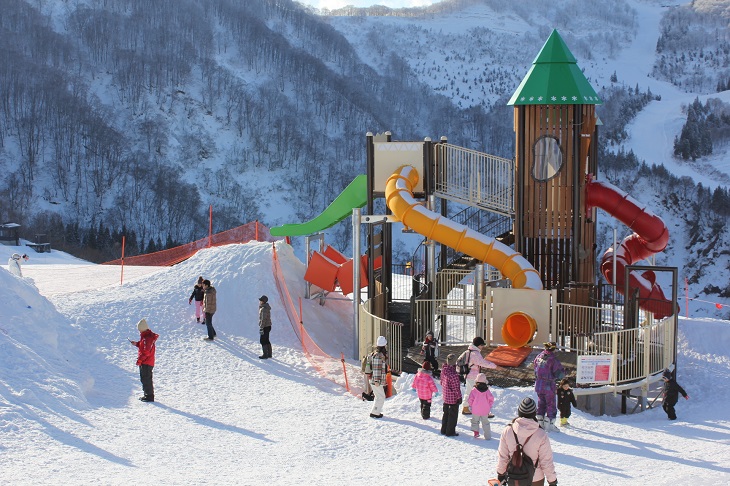 In "Kogen Snow Land" at the mountaintop, you can enjoy sledding and snow tubing surrounded by the stunning scenery. What's more, there's a "Tree Castle" with tunnel sliders! Kids can energetically run around on the snow without being bothered by the cold, soaking in the pleasure and beauty of snow while playing in it.
Indulge in a soak in an onsen at the ski resort.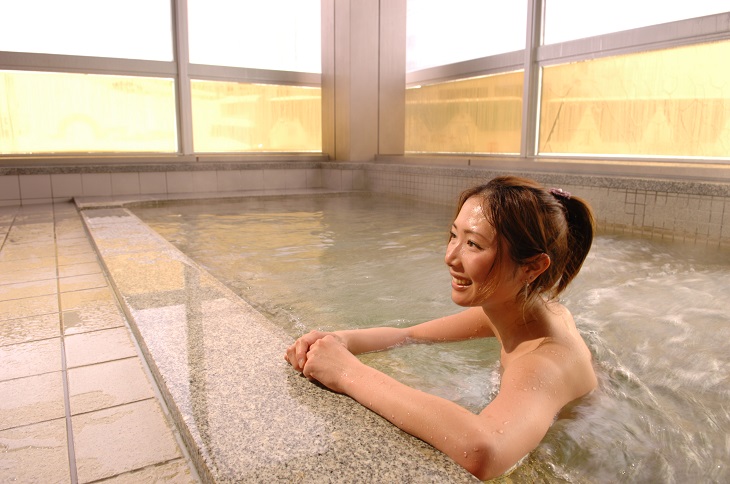 Right there in the ski center at the mountain's foot you'll discover the onsen "Komakusa no Yu." Yuzawa's onsen are celebrated for their moisturizing and smoothing effects on the skin, ideal during the dry winter seasons. Why not drop in to warm up your body with a soak after spending time at the terrace, playing in the snow, and sightseeing? Towel rental (requires a fee) is also available, so you can visit the onsen empty-handed.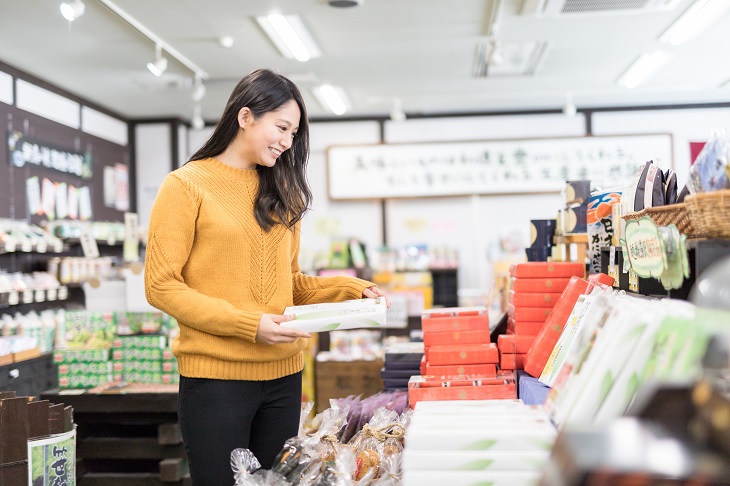 No trip is complete without a visit to the souvenir shop, "Yuzawa Marche" at the ski center. In addition to rice made in the rich rice-producing area of Niigata, rice snacks and local sake, the shop offers a wide range of local delicacies.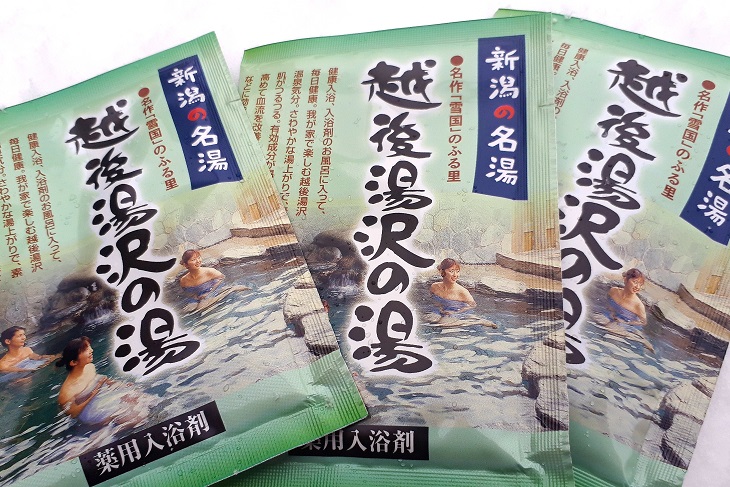 Also, "onsen salts," which are included in the combo ticket, contain mildly alkaline ingredients that are characteristic of Echigo-Yuzawa Onsen. Take home the benefit of smooth and supple skin for your own bath.
Enjoy a soak in Echigo-Yuzawa Onsen after sightseeing in the onsen resort.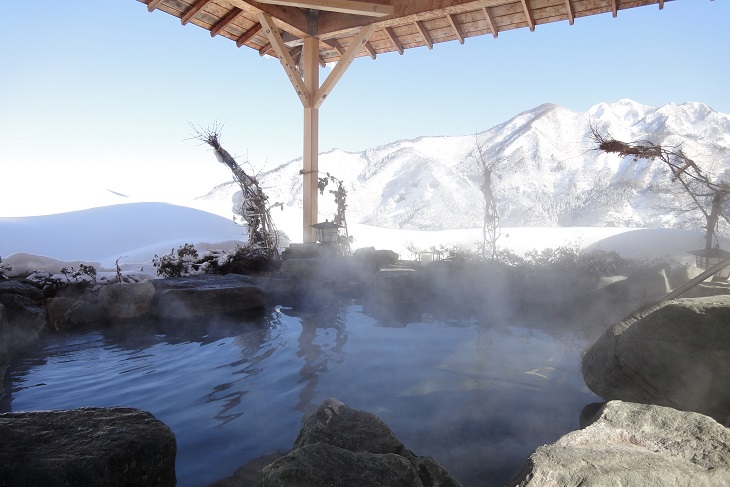 Echigo-Yuzawa Onsen, just 70 minutes from Tokyo by Shinkansen, is a perfect spot for a day trip. But why not stay longer in the town and make the most of the snow country? There's a variety of accommodation facilities in the onsen resort, ranging from reasonably priced guest houses to long-established Japanese inns, many of which have onsen facilities.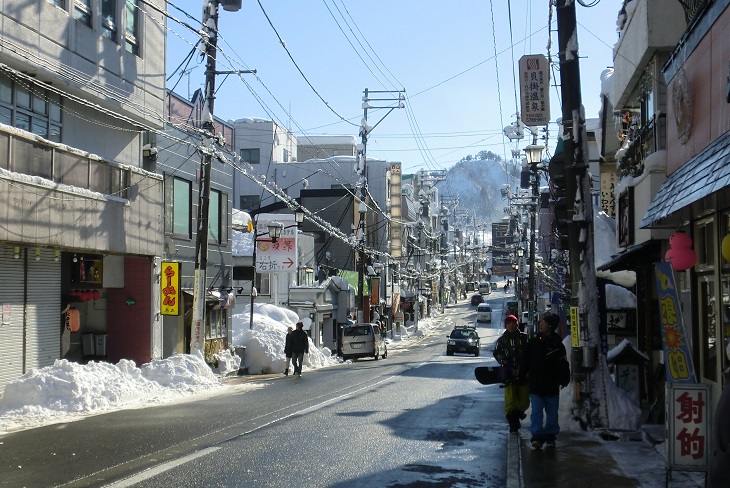 Dotted around Echigo-Yuzawa Station are many tourist facilities including souvenir shops, restaurants, footbaths, handbaths, and good-old game halls like shooting galleries. They all provide loads of fun together with the truly special atmosphere of the snow-blanketed onsen resort. If visiting Echigo-Yuzawa, be sure to take pleasure in the traditional onsen resort, which has built a long relationship with snow, as well as the snow activities the town offers.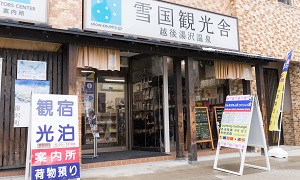 Inquiries about the combo ticket:
Snow Country Tourism Zone Information Center
TEL:025-785-5353
Business hours 9:00 a.m.–6:00 p.m. (Open every day)
Text : Chiho Kuriyama
Facility Information
Snow Country Tourism Information Center
Address

2431-1 Yuzawa, Yuzawa-machi, Minamiuonuma-gun, Niigata 949-6101
Notes

Access: At the west exit, Echigo Yuzawa station, Joetsu Shinkansen
Yuzawa Kogen Ski Resort
Address

490 Yuzawa, Yuzawa-machi, Minamiuonuma-gun, Niigata 949-6101
Notes

Access: 8 minutes walk from Echigo Yuzawa station, Joetsu Shinkansen. Free shuttle bus service in winter (bus stop is 40m walk to the right from the west exist, Echigo Yuzawa station, in front of hotel Echigo no Oyado Inamoto.)
Map