Have more fun skiing/snowboarding with the family! Six ski resorts recommended for family visitors
2020/02/13
Six of the best ski resorts for families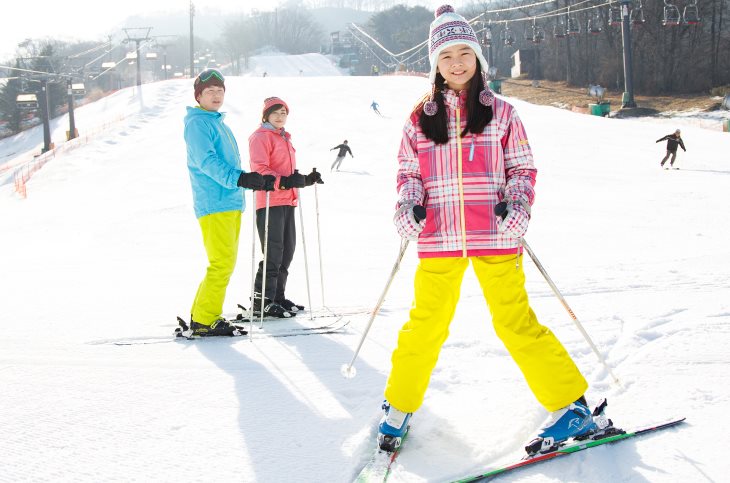 If your kids are skiing/snowboarding or going to a snow park for the first time, one of the most important things is to make sure they have a great time. Playgrounds for lifting young spirits are a must-have when choosing a ski resort. Another important thing to note is that the resort needs to have a gentle slope so young first-timers won't feel scared. Good accessibility and stable conditions are other factors to consider when selecting a destination for family skiing/snowboarding. If your kids play in snow to their hearts' content in a family-friendly ski resort, they'll certainly want to go back.
Karuizawa Prince Hotel Ski Resort offers a pleasant stay thanks to its plentiful sunny weather (Nagano Prefecture)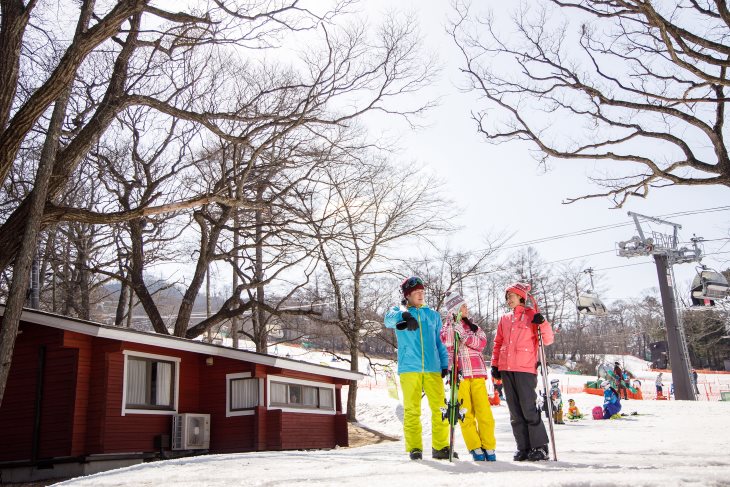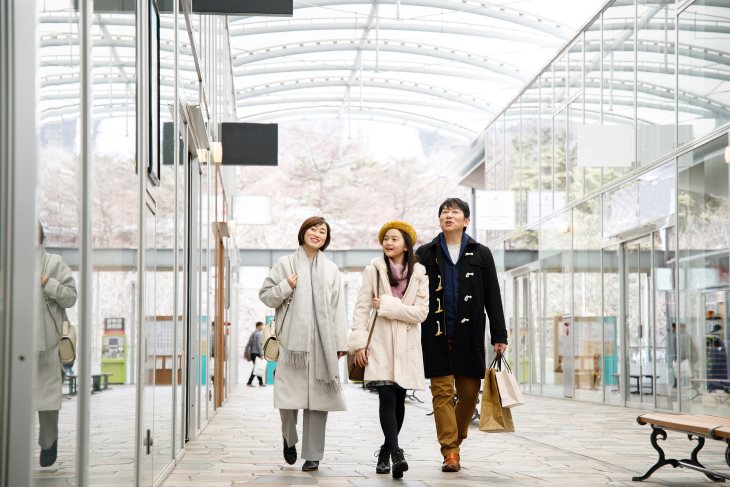 Easy transportation certainly helps when you're travelling to a ski/snowboarding resort with your kids. In that respect, Karuizawa Prince Hotel Ski Resort offers excellent accessibility; this resort is less than a two-hour drive from the Tokyo metropolis, about 10 minutes' walk or a free shuttle bus ride from the nearby Karuizawa Station on the Hokuriku Shinkansen line. About half of its ten trails are for beginners. You can glide along the broad runs of the Prince slopes all the way from the summit via the gentle family-friendly trails. The longest trail makes it easy for the whole family enjoy skiing fun together since it bypasses the trails for intermediate and advanced skiers. And even if you don't ski or snowboard, you can take the sightseeing lift to enjoy the view of snow-covered Mount Asama and the Karuizawa townscape from the summit.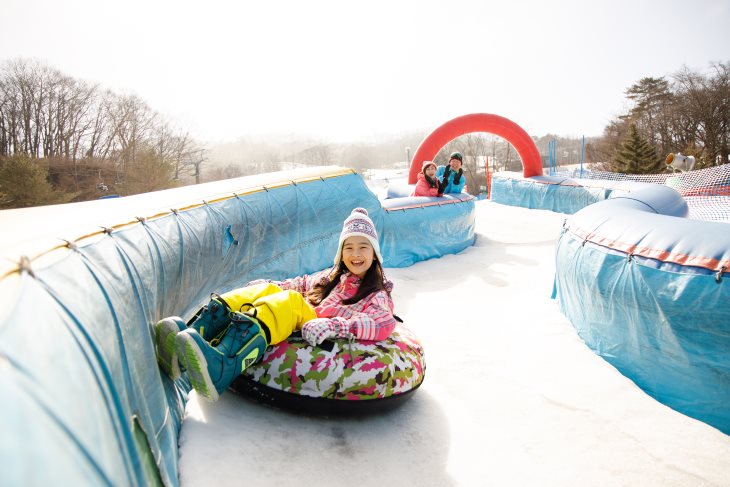 What makes a ski resort ideal for families above all is plenty of sunny weather and a kid-friendly environment. For example, Snowman Park is a dedicated area for sled-riding. Located in two areas of the resort, this park offers activities like inflatable playground equipment and tubes—a perfect environment for snow play! This area features convenient facilities for families with small children such as Snow House, which includes a complimentary break room and a breastfeeding room. Right next door, the Karuizawa Prince Hotel offers accommodations for families with various needs, such as twin rooms and cottage-type rooms. Since the log cabin-style cottages are separate from one another, they're great options for families. Near the ski resort, you'll find Karuizawa Prince Shopping Plaza, home to about 240 stores. This extensive shopping area is a great place to check out after a day of skiing.
Hunter Mountain Nasu offers extensive facilities that accommodate families. (Tochigi Prefecture)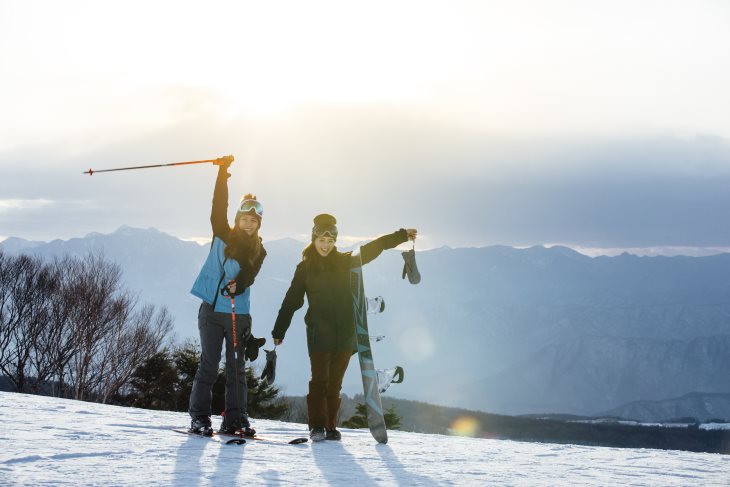 Hunter Mountain Nasu is one of the largest ski resorts situated close to the Tokyo metropolitan area. It's easy to get around all 12 trails using the gondolas, and the long 3,000-meter run is great for some exciting downhill skiing. Another reason why this resort is popular is that the slopes are carefully prepared using state-of-the-art snow cannons. Broadway is a perfect trail for families and beginners as its average steepness is about 10 degrees. This kilometer-long slope is ideal for kids to learn long-distance skiing without fear. One of the largest snow playgrounds in the Tokyo metro region, Kids Park offers a dedicated area for sleds, tubes and striders as well as inflatable playground and snow play equipment. This playground is right beside Family House, where you'll find restrooms and indoor play spaces for your convenience.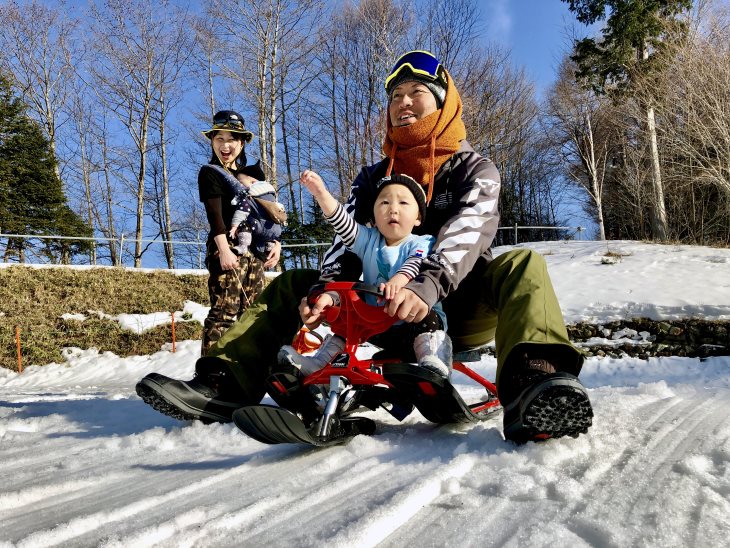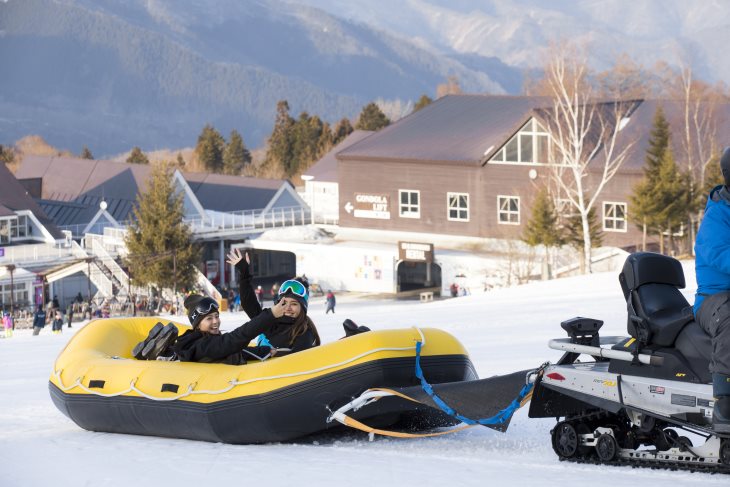 Children's House, inside Kids Park, has dedicated baby-sitters for visitors. Or if your kids are too old for Kids Park and ready to hit the slopes, they can practice skiing in Hantama Square. This is a safe space sectioned off with nets, where kids can practice skiing with plastic skis and train their balance for lift rides to prepare for their first day on the slopes. This resort has a special slope for snow rafting, as well as many other family-oriented activities. What's more, you'll find Shiobara Hot Spring Town along the river on the way from Nishinasuno-Shiobara IC to the ski resort. This town is a place where you can stay at a traditional hot spring hotel or enjoy some hot-spring hopping.
Easy access from the Tokyo metro area! Tambara Ski Park (Gunma Prefecture)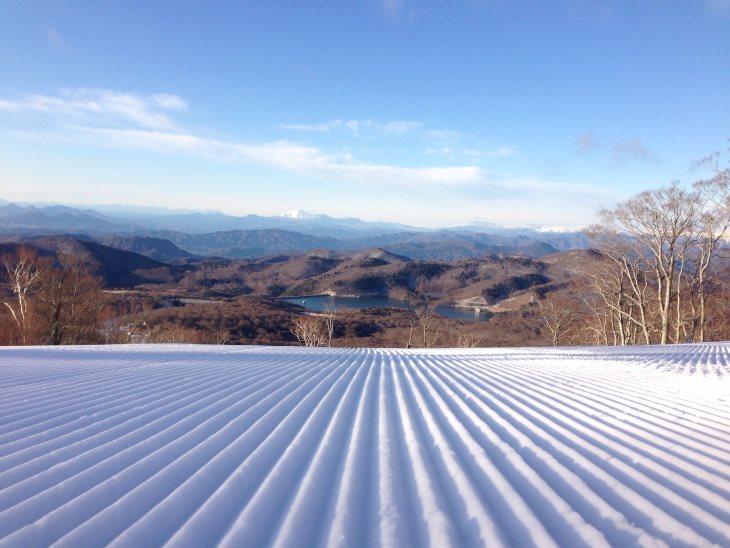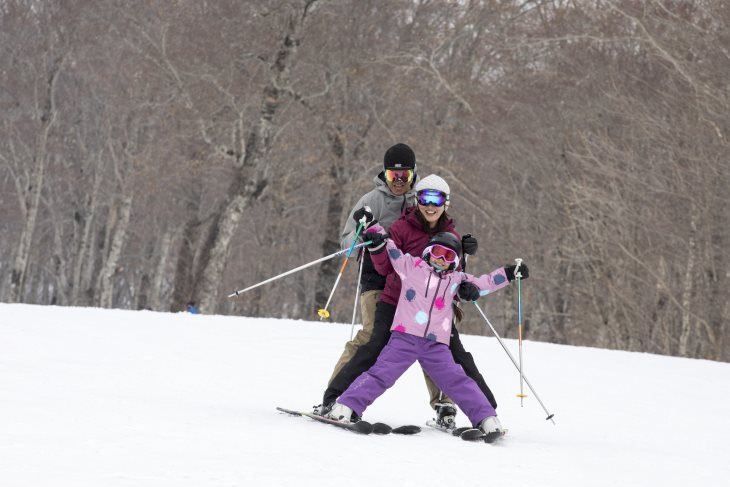 True to its tagline that goes "Fluffy snow near you," Tambara Ski Park is just a two-hour drive from the Tokyo metropolitan area, making it a suitable for a day trip. Even though it's so close, Tambara is blessed with a high altitude of 1,250 to 1,550 meters and smooth powder snow. Thanks to all the snow that blankets this resort, it stays open all the way from the end of November to Golden Week. They open the 1,450-meter slope that runs from the Center Trail summit as early as the beginning of the season. Another great benefit is the superb panoramic view of Lake Tambara from the summit. The resort also offers snow park equipment that takes advantage of its natural terrain. Tambara is a place all types of skiers can enjoy, from children who are skiing for the first time through to advanced skiers out for a thrill.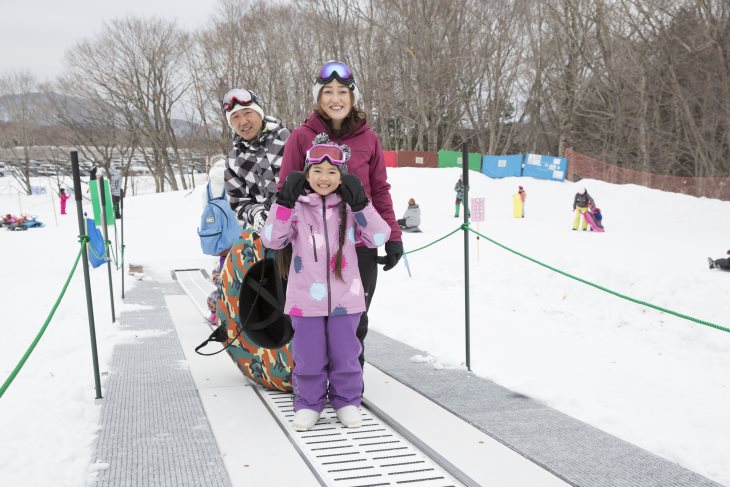 Since 80% of its eight trails are for beginners and intermediate skiers, this is a wonderful resort for family skiing and snowboarding. Family Trail is especially ideal for kids who are skiing for the first time. The super-gentle slope with an average steepness of 5 degrees keeps the skiing speed slow. Wide and gentle, this 700-meter run makes for easy-going cruising. And Tamba Snow Land features a snow escalator and offers sled, snow tubes, snow striders and the like for unlimited use. Plus, the children's ski and snowboarding school adds elements of snow play into their lessons. If your kids get tired from skiing, you can take them to the kids' area that has playground equipment and children's restrooms. Tambara provides a full range of family-oriented services, including food just for kids' menus at the restaurants.
Blessed with a high rate of sunny weather, Fujimi Panorama Resort is a great place to stay. (Nagano Prefecture)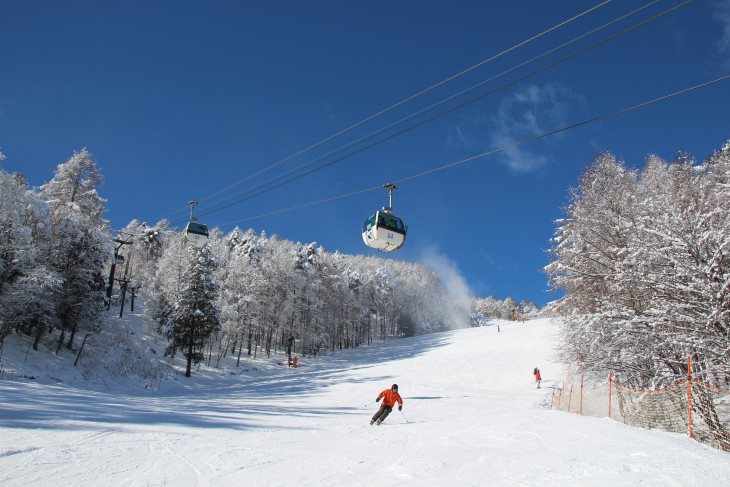 A seven-minute drive from Suwaminami IC on the Chuo Expressway and a 10-minute shuttle bus ride from Fujimi Station on the Chuo Main Line, Fujimi Panorama Resort is easy to access by train or car. Blessed with a high rate of sunny weather, this resort offers delightful skiing under a blue sky. As the resort's name suggests, the vista from the top of the gondola is a broad panorama, giving you a spectacular view of the surrounding scenery as you glide down the 3,000-meter trail from the summit. Around the base you'll find gentle slopes and broad, gentle trails great for beginners and families in a layout designed to help kids to relax and have fun skiing. The low humidity and the moderately chilly temperature create excellent snow conditions, and the snow machines operate throughout the season to keep the snow just right.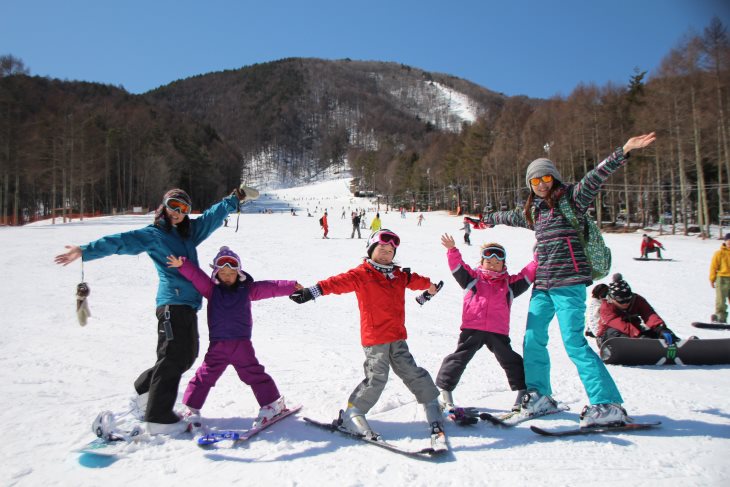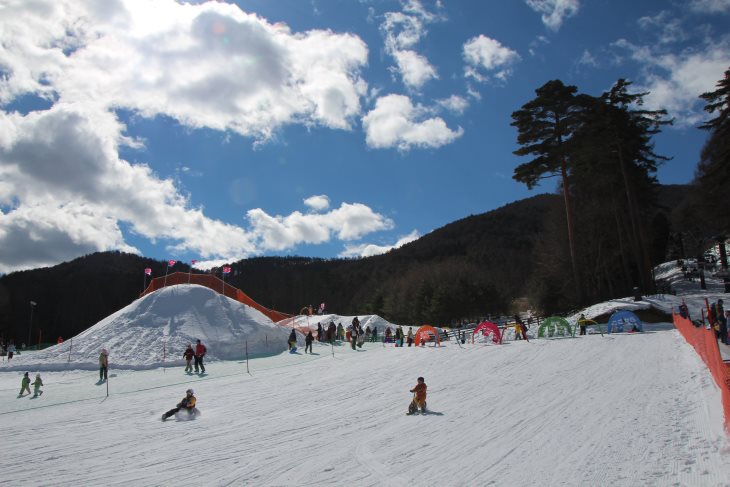 Set away from the advanced slopes, Family Trail is a wide, gentle run with an average steepness of eight degrees, making them ideal choices for beginners and kids. A little steeper is Center Trail, excellent for building confidence in beginners seeking to become intermediate skiers. For kids who aren't yet ready for ski trails, Kids Park offers sled rides, tubing as well as snow strider skis. This kid-friendly resort also includes a snow playground featuring a big snow mountain, a fun place for energetic kids to play in the snow. Inside Kids Park, you'll find an indoor break room where you can take off your boots and relax. A one-minute drive from the ski resort, Yuutoron Suijin No Yu is a perfect day-trip hot spring facility to soak away your exhaustion after skiing.
Sugadaira-Kogen Snow Resort offers a great variety of trails and accommodation. (Nagano Prefecture)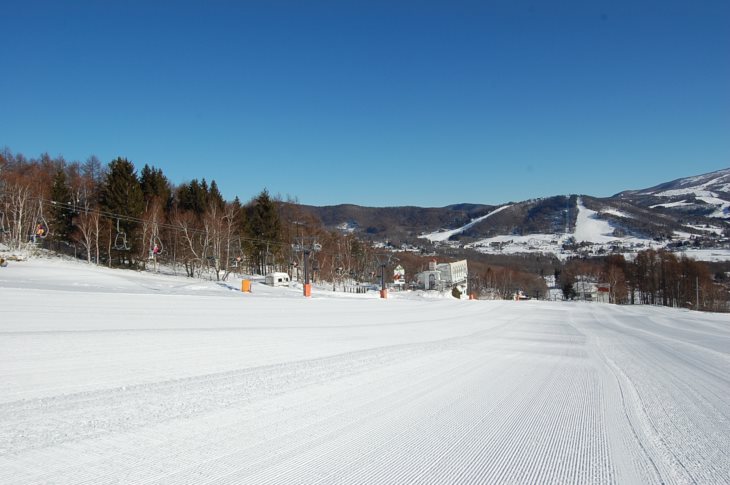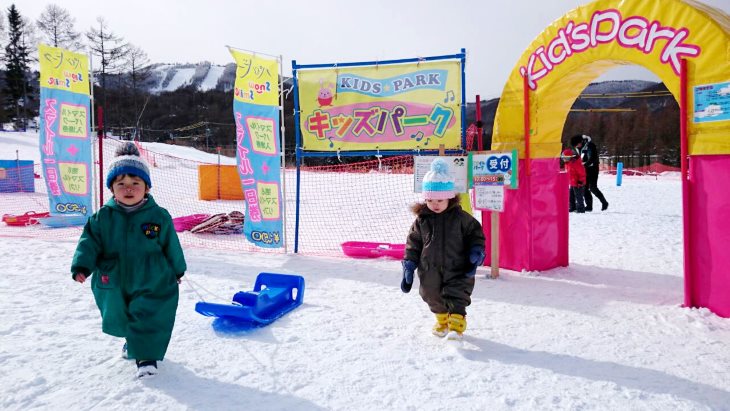 Sugadaira-Kogen Snow Resort is a mega-resort with 60 trails running all over its vast piste. Blessed with abundant sunny weather, this resort is the place to be to enjoy a magnificent snow field under a blue sky. While this sunny resort features many ski trails, the Pine Beak Area is especially family-friendly. The gentle trail that runs near the parking lot is perfect for young first-timers. Smile Park at the base area is a great place for kids who are tired or have had enough skiing, since it offers plenty of unusual things to keep them happy, such as snow racers and snow riders. Also on offer are a reservation-only nursery and several playgrounds throughout the resort—you can use the playground on Tengu Trail in the Davos Area over the back free of charge.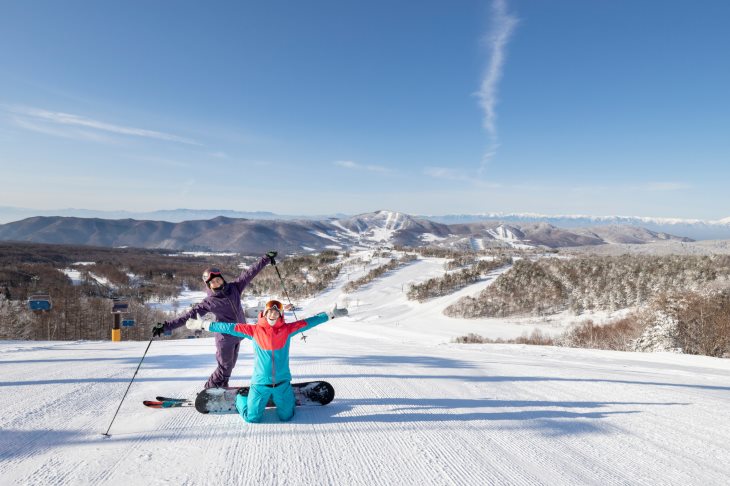 This enormous ski resort features all kinds of trails for skiers of every level, ranging from gentle slopes for first-time skiers and snowboarders to expert runs. The altitude of 1,260 meters makes this area one of Japan's coldest places. This means during the high season, you can enjoy views of rime-coated trees from the summit of Mount Neko, which is accessible by snow cat. As well as the inland dry powder, snow machines operate nightly until spring to maintain excellent snow conditions. The neighboring area is home to some 100 individual hotels that offer good access to the ski resort. This resort has different accommodation options for different needs. For example, you can choose hotels located close to your favorite runs, hotels that specialize in good food and ambiance, and so on. This is part of what makes Sugadaira-Kogen so special.
Meiho Snow Resort is the perfect place for kids snowboarding or visiting a snow park for the first time! (Gifu Prefecture)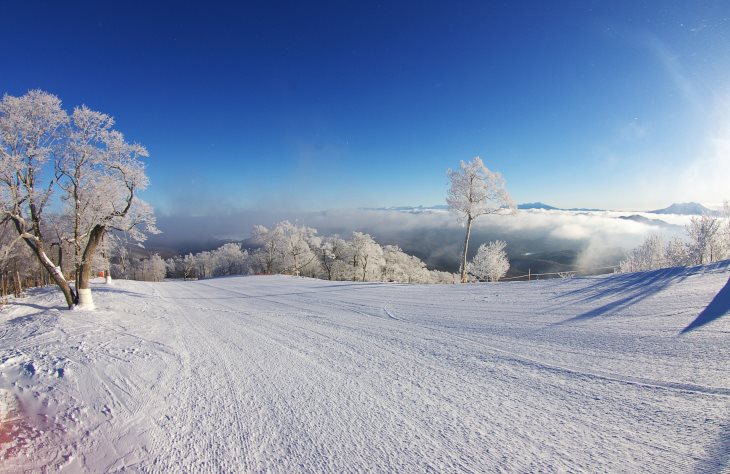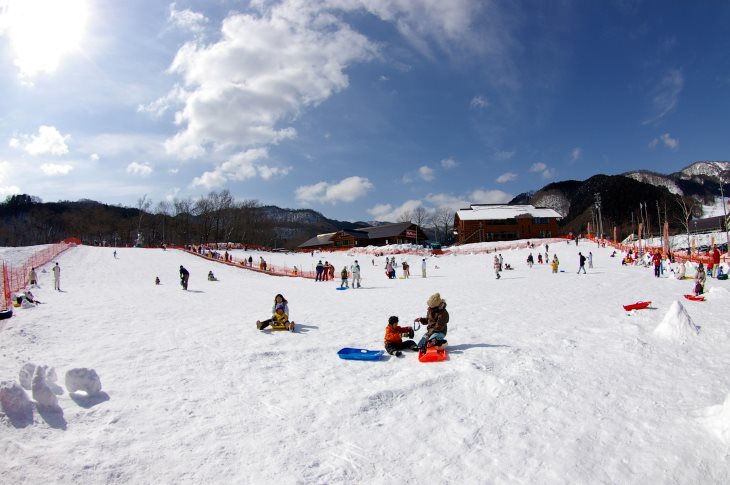 What makes Meiho Snow Resort stand out from the crowd is Shaun the Sheep Snow Land, which is one of the largest playgrounds in Western Japan. Your kids can enjoy sled rides and tubing to their little hearts' content out in the vast open area, and use the snow escalator to climb back up the slope. There's also Burton Kids' Riglet Park, a snowboard park just for kids! Situated at the entrance area, this kid-sized park is for kids aged 3 to 6 and offers training on techniques for different types of terrain. Since both these parks are situated away from the main slope, your family can have a great time while staying safe.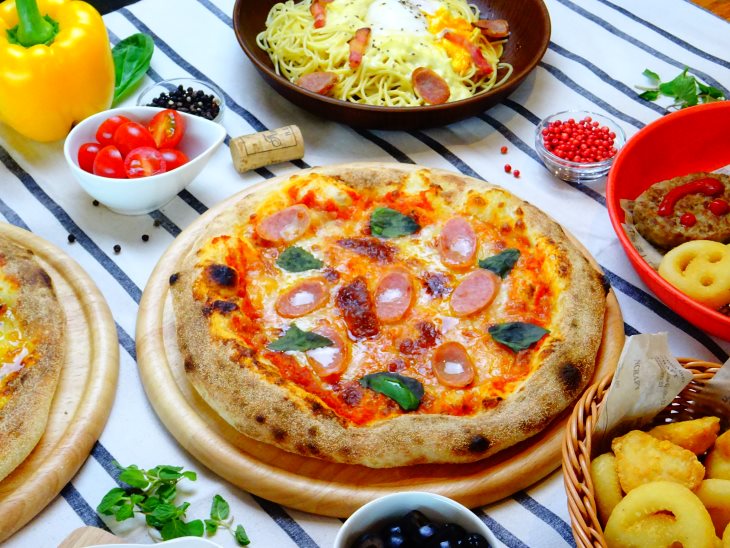 Located in inland Japan, this family-friendly snow park is blessed with light snow. This resort maintains its top-notch snow conditions using state-of-the-art snow cannons. The extensive resort has 14 trails to suit all levels of skiers, with about 80% of the trails created for beginners and intermediate skiers. At 1,600 meters above sea level, the summit delivers a magnificent panoramic view of the Northern Alps and Mt. Ontake, giving you some super scenery to gaze at on the exhilarating 5-km cruise to the mountain's base. Next to the children's slope there's a nursery, a free breakroom, family-oriented restaurants, and stores for gloves, hats and snow-play equipment. While you're there, why not indulge in a piping-hot pizza baked in a brick oven at one of these restaurants? A mere three-minute drive from the resort is where you'll find Spa Yuseikan, highly rated for its open-air bath that overlooks stunning snowy scenery. A shuttle bus from the ski resort will take you there.
Facility Information
Karuizawa Prince Hotel Ski Resort
Address

Karuizawa, Karuizawa-machi, Kitasaku-gun, Nagano
Hunter Mountain Shiobara
Address

Maeguro, Yumotoshiobara, Nasushiobara-shi, Tochigi
Tambara Ski Park
Address

Tamaharakogen, Numata-shi, Gunma
Fujimi Panorama Resort
Address

6666-703 Fujimi, Fujimi-cho, Suwa-gun, Nagano
Sugadaira-Kogen Snow Resort
Address

1223-1751 Sugadairakogen, Ueda-shi, Nagano
Meiho Snow Resort
Address

3447-1 Mizore, Meiho Okuzumi, Gujo-shi, Gifu
Map