Enjoy the great atmosphere of a winter resort! Six ski resorts perfect for a girls' trip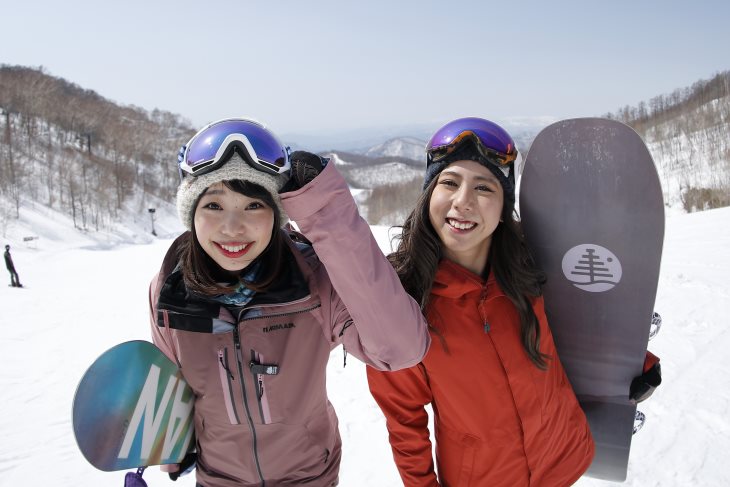 Some girls want more than just skiing and snowboarding when visiting a snow resort; they want to spend their getaways surrounded by beautiful winter scenery and take their time to savor lunches and cafes to their hearts' content. They might also want to enjoy shopping with their friends. Even these ambitious plans are all possible on girls' trips. For this article, we have selected six ski resorts that offer an extensive range of ingredients for a fantastic girls' trip. Indulge in everything these snow resorts have to offer!
Savor the local cuisines and shopping at Furano Ski Resort (Hokkaido)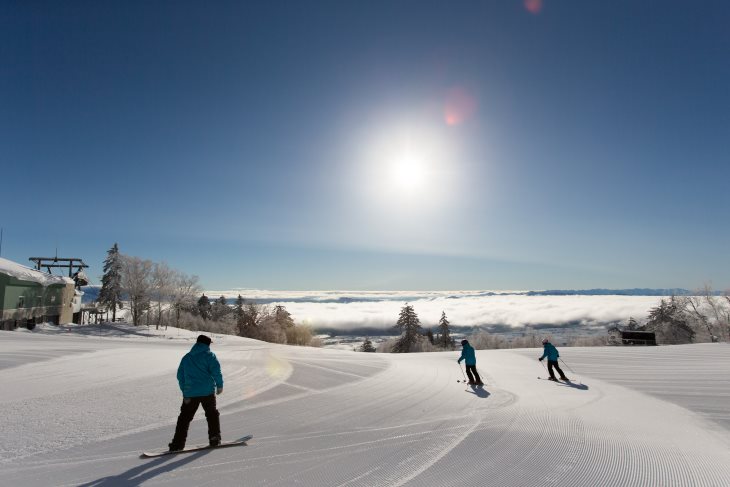 While Hokkaido overall is highly rated for its smooth, dry powder, the snow quality of Furano Ski Resort in inland Hokkaido ranks among the world's best. There are as many as 23 ski trails in Kitanomine Zone, where one gondola ride takes you all the way to the summit, and Furano Zone, which has cable cars that can hold up to 101 people per unit. These two zones together comprise this extensive winter resort. Commanding a magnificent view of the Tokachi Mountain Range and Furano Basin, the summit is the perfect spot for taking pictures. The resort offers a range of slopes for everyone from beginners to experts, with the longest trail stretching 4,000 meters in length. Since this ski resort is conveniently located near downtown Furano as well as having good transportation access, there's plenty to enjoy after a fun day of skiing.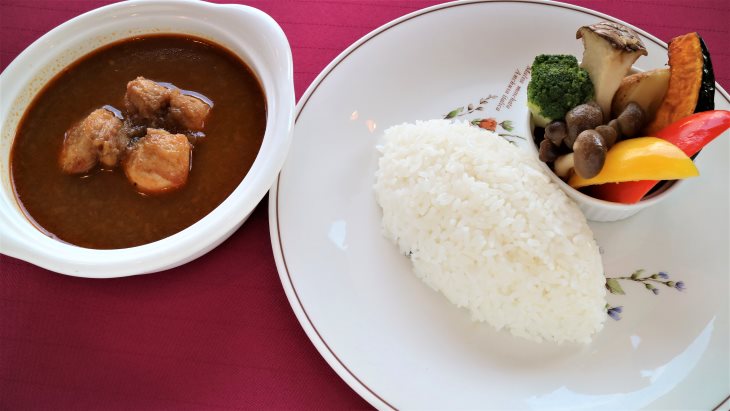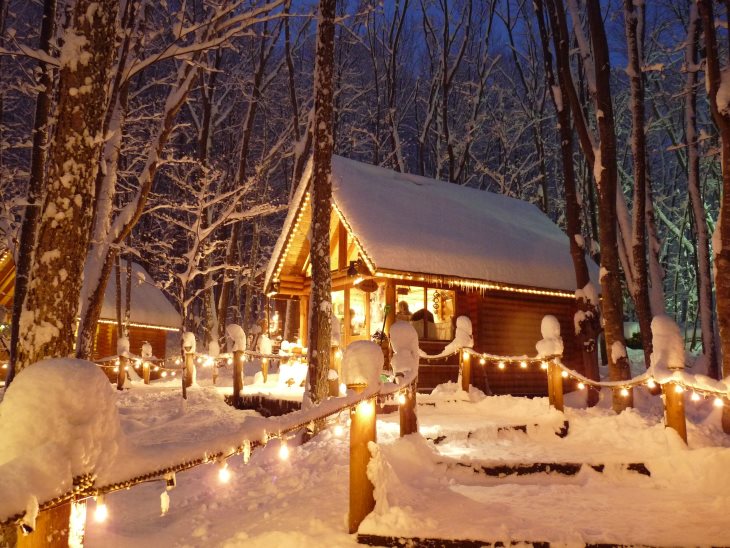 Both areas have hotels with restaurants for lunch. Lavender at New Furano Prince Hotel serves soup curry, which is one of its most popular dishes. This is an elegant-looking chicken dish features root vegetables and colorful vegetables as garnishes. The restaurant also offers extensive cake and beverage choices, making it a great place for coffee time. At Furano Hot Spring "Shisai no Yu," located inside the hotel, relax your body and mind in the smoothly textured hot water. Ningle Terrace, right next door, is a shopping area with log cabins laid out beside one another. There, you can visit cafes and craft studios, and join craft classes as you explore the village. This shopping area lights up after dark, creating a dream-like atmosphere.
Mt. Jeans Ski Resort Nasu is a perfect destination for enjoying shopping after snow activities. (Tochigi Prefecture)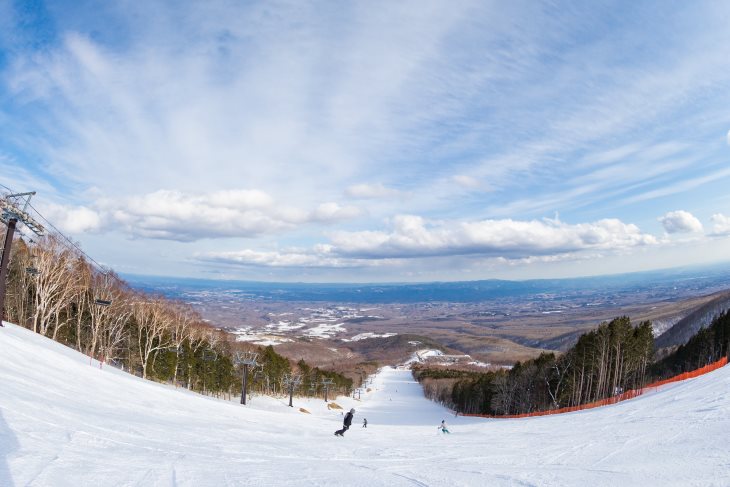 You'll find Mt. Jeans Ski Resort Nasu a two-hour drive from the Tokyo Metropolitan area. If heading there by train, you can take a reservation-only free shuttle bus from Nasushiobara Station, which is served by the Tohoku Shinkansen. While this ski resort is located close enough for day trips, you can enjoy ski slopes that are more than just satisfactory, including a 2,000-meter trail accessible by gondola. The seven trails offer not only slopes of various steepness but also stable conditions prepared by snow cannons for pleasant skiing experiences. This resort commands great views of the Nasu Highlands' natural environment, the most spectacular being the vista from the observatory at the gondola summit, at an altitude of 1,410 meters. The panoramic views of the snowy mountains extending below the blue sky make it a popular picture spot that attracts many people hoping to take great Instagram photos.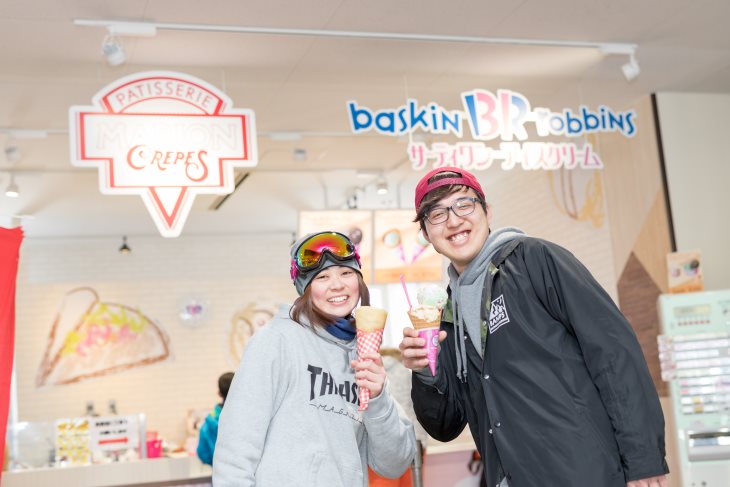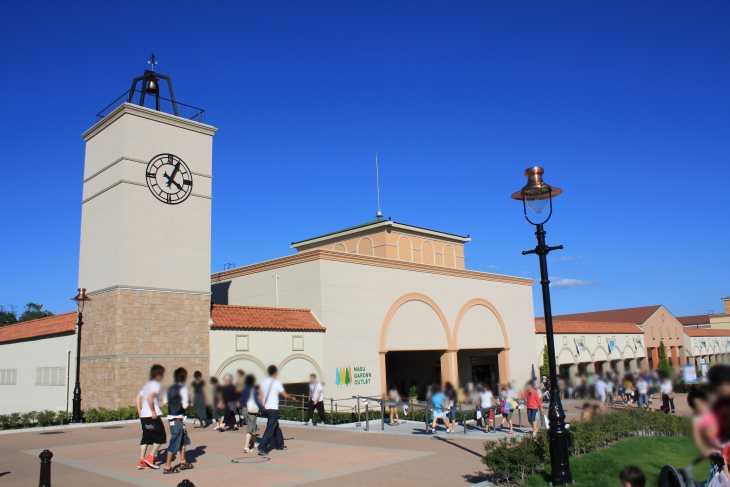 Taking breaks while skiing or snowboarding is especially fun on girls' trips. In that light, Mt. Jeans Ski Resort Nasu is a great destination as it has many dessert venues like 31 Ice Cream and Marion Crepes. They're thoughtful enough to have hair driers available in the powder rooms of the base lodge so you touch up your hair while there. Out on the snowfields at the gondola summit, you can also try non-skiing winter activities such as fat bike tours and snow shoe tours. The Nasuyumoto area, which is a 15-minute drive from the ski resort, features many day-trip hot spring facilities dotted all around. And there are plenty of other activities you can enjoy after skiing, such as shopping at Nasu Garden Outlet Mall.
Enjoy a fine resort at Naeba Ski Resort (Niigata Prefecture)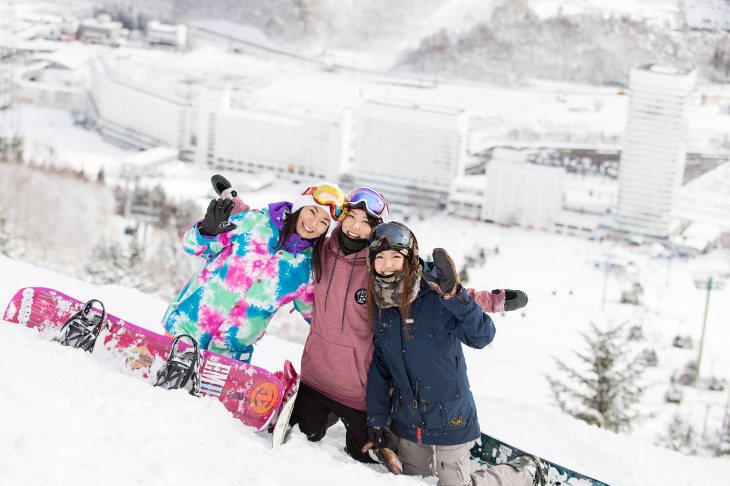 Naeba Ski Resort is surrounded by hotels at the foot of the mountain with a luxury atmosphere. It is connected to the adjacent Kagura Ski Resort by a 5481meter Dragondora, the largest in Japan, and forms Japan's largest snow resort, Mt. Naeba. Blessed with relatively light snow, you can enjoy skiing in stable conditions with artificial snow machines. A wide-burned barn spreads in front of the hotel, and you can slide slowly toward the foot of the mountain. There is also "ROXY SNOW PARK", a collaboration with ladies' apparel brand ROXY, which is popular as a spot where ROXY-colored items, benches, and signboards can be instantly installed. Every Tuesday and Thursday, from early January to early April, the "Ladies' Day" is held where the day ticket for the Naeba area is 3,500 yen. You can't miss services that are nice for girls traveling.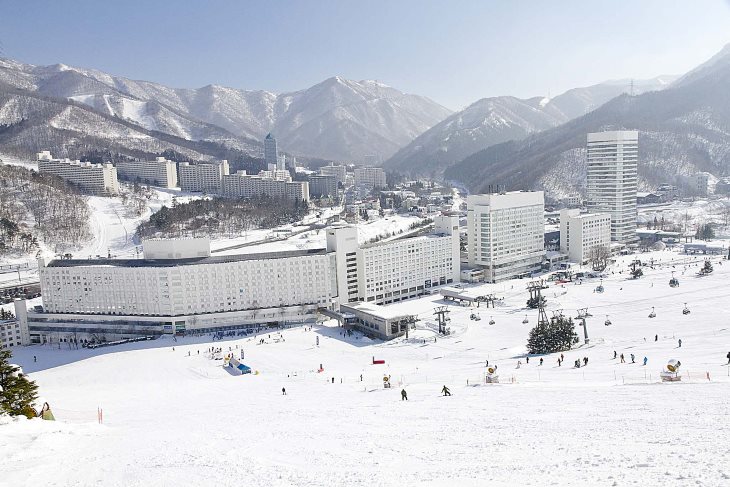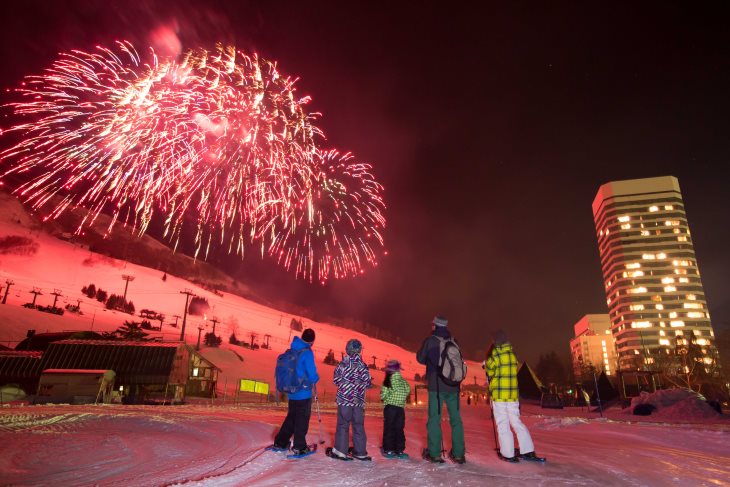 There are about 30 restaurants, including ski resorts and hotels, that offer a wide range of dishes from simple dishes such as ramen, pizza and kebabs to gorgeous meals such as yakiniku, sushi, buffets, izakayas, and Chinese cuisine. There are also a bar and lounge, and "Cocktail Lounge Chatelaine", where you can enjoy tea time and original cocktails while watching the slopes, is recommended. Girls and couples can spend a notch higher time. The Naeba Prince Hotel at the foot of the mountain has two hot spring facilities: Naeba-no-Yu, which is reserved for guests only, and Hiuchi-no-Yu, an open-air bath that can be used for day trips. "Relax care" where you can massage and shiatsu can relieve the fatigue of skiing and snowboarding. From late December to late March, the "piste launch fireworks" is held every Saturday. The a lot of events are also an attraction of Naeba Ski Resort.
Enjoy spectacular scenery from the terrace and a famous bakery at Hakuba Iwatake Snow Field (Nagano Prefecture)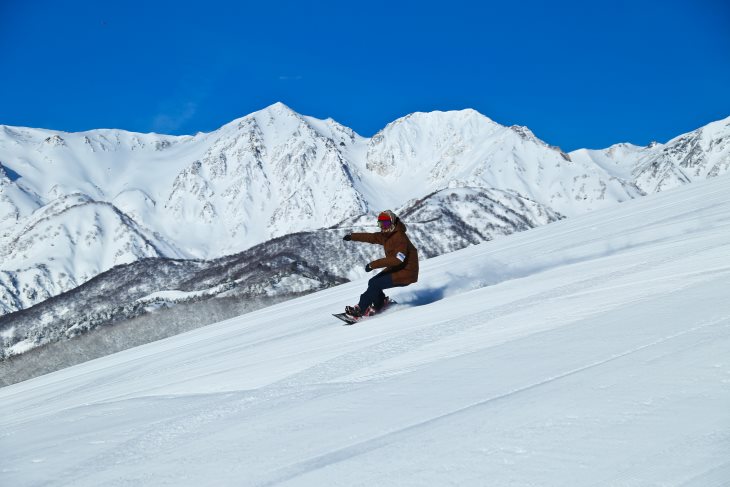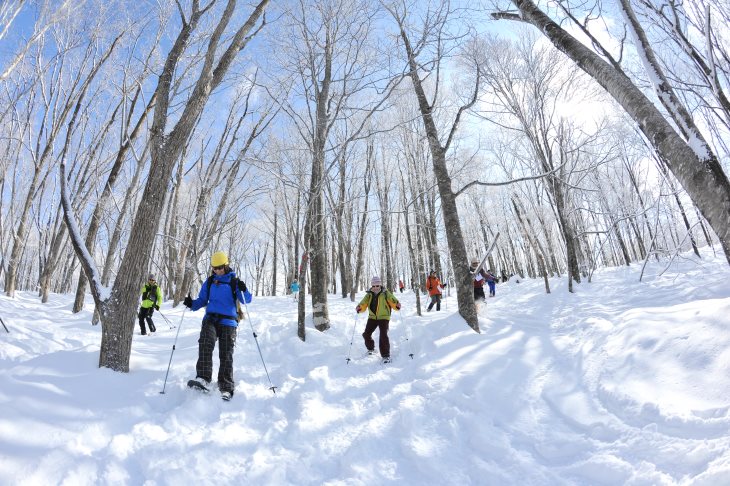 Hakuba Iwatake Snow Field is one of the Hakuba area's best kept secrets. This ski resort offers magnificent panoramic scenery with ski trails that run in all directions. This resort has 26 very different ski trails, including its signature slope that offers exhilarating experiences of skiing toward the Northern Alps, slopes blanketed in uncompressed snow that have been created on natural terrain, and a snow park. These trails evenly accommodate all levels of skiers from beginners to experts. The resort is so vast you're likely to need more than one day if you want to ski on almost all the trails. This giant but lesser-known resort is the only ski resort in Japan that offers a VIP program. The program is called HAKUBA S-CLASS, and is a luxurious service package that includes priority boarding for the gondolas and lifts, access to multiple lounges and Ski Valley, and Cloakroom Services for checking your baggage and equipment.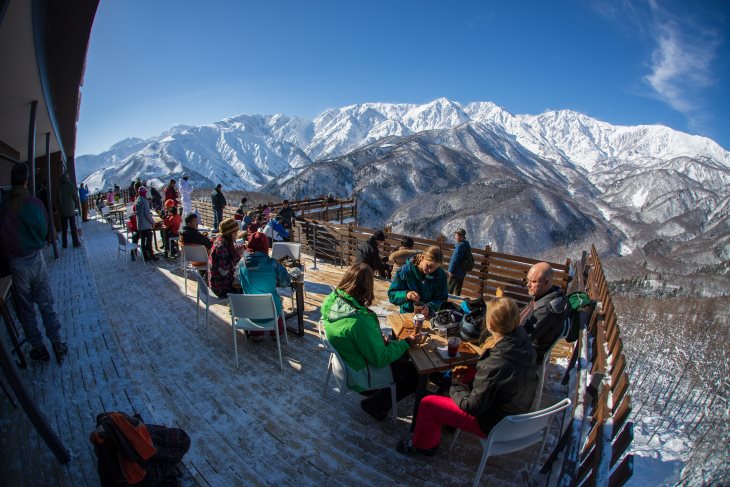 Hakuba Mountain Harbor, perched upon the summit, is a popular spot for enjoying light meals and a spectacular landscape. The City Bakery, a popular bakery from New York, recently opened a store here. Its popular menu item is the pretzel croissant sandwich, which tastes delicious and looks great. This bakery also offers hot drinks such as coffee and hot chocolate, which taste exquisite especially when sipped in the brisk winter air. You can even visit this resort just for the sake of this spectacular landscape without skiing or snowboarding. There are many other non-ski winter activities such as buggy cruising, snow-shoe tours and early-morning cat tours. At the foot of the mountain there is a historical shrine and a restaurant that used to be a several-hundred-year-old house. Illuminated at night, the traditional townscape creates a dreamy ambiance, making for a perfect getaway spot.
Kawaba Ski Resort offers convenient facilities and a wide selection of lunch items! (Gunma Prefecture)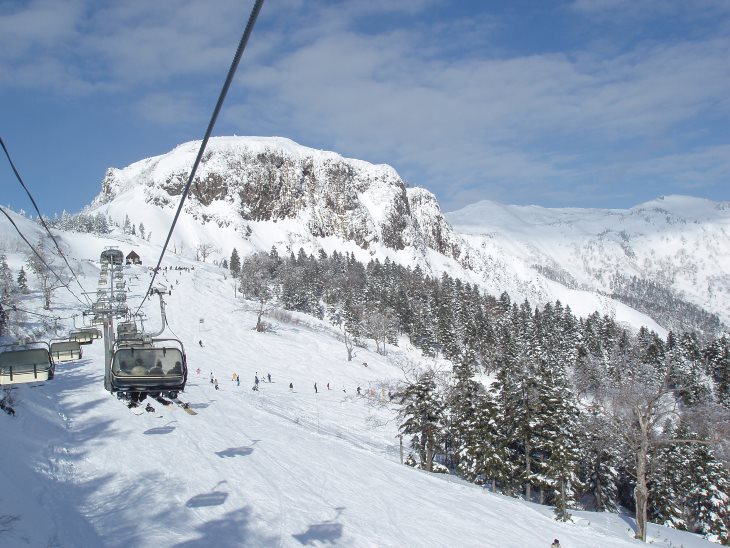 Situated a two-hour drive from the Tokyo Metropolitan Area, this ski resort is a convenient destination for day-trip visitors. Its base elevation is 1,290 meters and the top is at 1,870 meters, making it quite a high resort. This geographic advantage provides smooth, dry powder snow. On sunny days, the summit commands a panoramic view that extends all the way to Mt. Fuji, and the 3,300-meter-long trail that runs down from the mountaintop offers a refreshing and gentle cruising experience. This resort features ten different types of trails for active girls who want to ski hard in the snow park or surf the snow walls. In the First Step Gelande, 80% of the slopes are for beginners and intermediate skiers, which makes it a perfect option for first-time skiers. During the high season, this snowy destination offers a tour called "the First Track" every day. It's a great way to cut your own tracks through fresh snow in the morning before anyone else.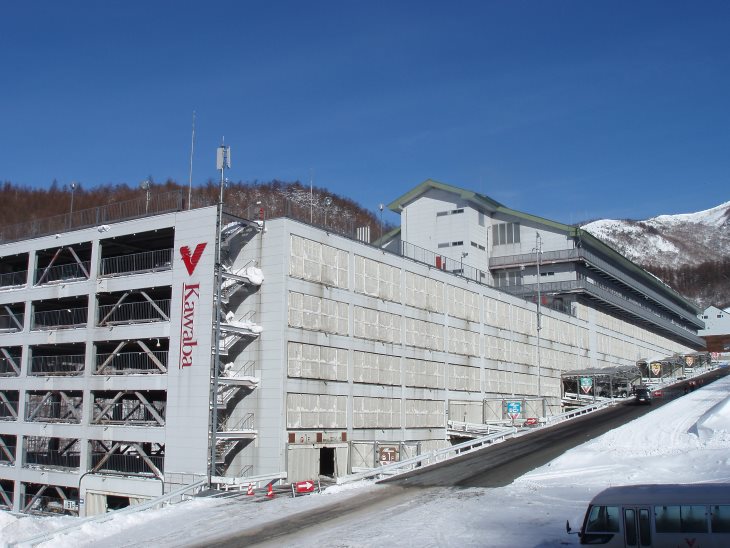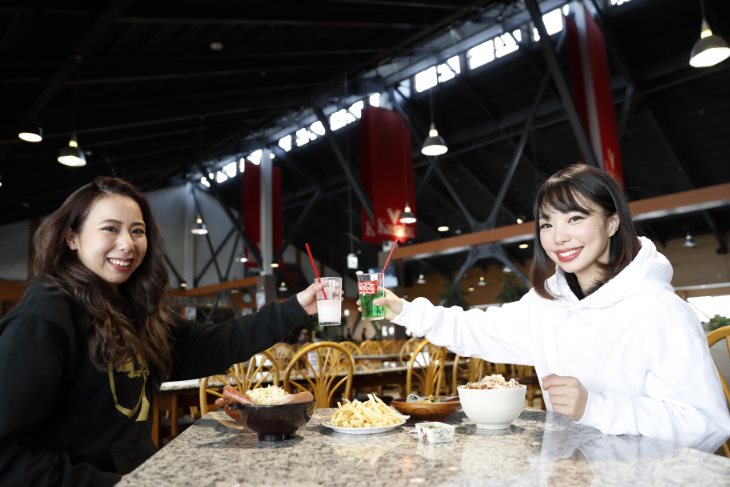 Since Kawaba City has a multi-story parking lot that's directly connected to the slopes, you won't have to worry about getting your feet dirty in the snow or dirt on your way to the trails. Kawaba City has everything you need, such as restaurants, shops and a rental store that makes your preparations to hit the slopes smooth and easy. You'll discover a wide selection of restaurants that offer exciting lunch options, such as authentic Indian curry, brick-oven pizza, and gelato served by a shop directly run by a farm in Kawaba Village. You can also indulge in some shopping at a famous sporting goods store that offers a huge range of items. Rest assured even if you're not confident about driving on snowy streets, you can park your car at the mountain foot and take a daily free shuttle bus from there. What's more, Michinoeki has a day-trip hot spring facility.
The observatory and the luxurious cafe are must-visits at Ryuoo Ski Park! (Nagano Prefecture)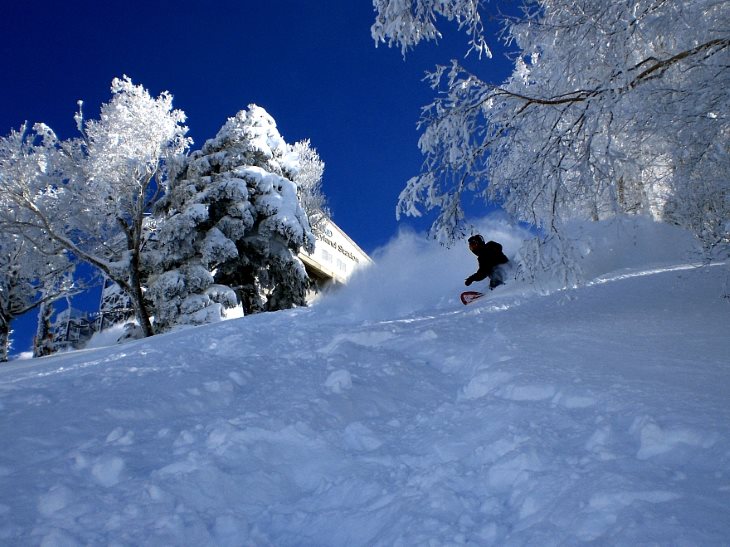 Ryuoo Ski Park is located in the Kitashiga area, which enjoys high-quality snow. This ski resort consists of three different areas: the Skyland Area, the Valley Area, and the Kiotoshi Course. The Skyland Area is a perfect place for beginners and intermediate skiers who want to enjoy skiing through high-quality powder, while the Valley Area has various terrain forms for liberating skiing experiences on wild trails. On the Kiotoshi Course, which is an advanced-level slope that connects these two areas, you must wear a helmet. These three areas comprise the resort's vertical layout. The Skyland Area is located at an altitude of 1,930 meters, which is the highest of the three zones.
Here you can skiing as long as from the end of November to May 6. Even when the snow conditions at the mountain foot are poor in early spring, the snow quality at the summit is completely different. In addition, the features available in the snow park are designed to help beginners improve gradually, making it easy for female first-time skiers.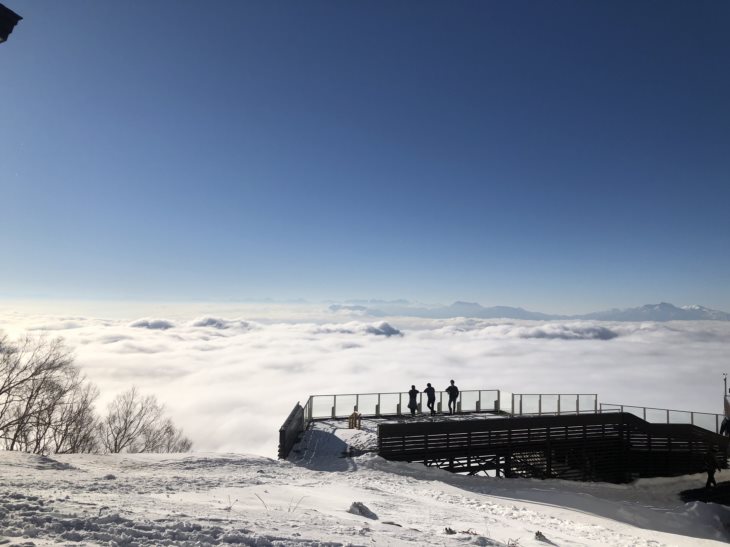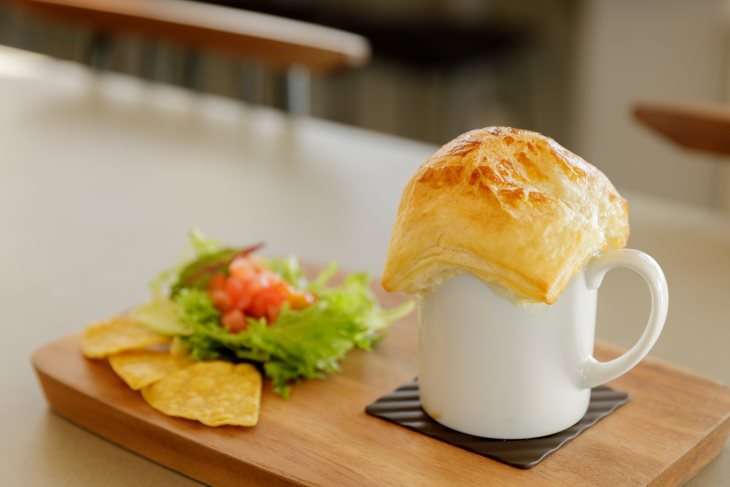 SORA terrace and SORA terrace cafe are perfect spots for female visitors. At SORA terrace cafe, situated next to the observatory at an altitude of 1,770 meters, you can delight in the food and beverages for lunch or coffee time while taking in the spectacular landscape. The panoramic view highlighted with a sea of clouds and beautiful winter mountains is breathtaking. This cafe also lets you enjoy the picturesque view from the comfort of a sofa or luxurious space with a fireplace. The cafe offers its original food items inspired by a sea of clouds. Their popular choices are photogenic foods such as Unkai (sea of clouds) Soup in Baked Pie Wrap, Sky Sodapop, and Unkai Marshmallow. This resort has a famous sporting goods store in the Ryuoo Bus Information Center as well as Mikazuki no Yu, which is a day-trip hot spring facility located at the foot of the mountain.
Facility Information
Furano Ski Resort
Address

Nakagoryo, Furano-shi, Hokkaido
Mt. Jeans Ski Resort Nasu
Address

Oshima, Nasu-machi, Nasu-gun, Tochigi
Naeba Ski Resort
Address

Mikuni, Yuzawa-machi, Minamiuonuma-gun, Niigata
Hakuba Iwatake Snow Field
Address

Iwatake, Hakuba-mura, Kitaazumi-gun, Nagano
Kawaba Ski Resort
Address

Kawaba Kogen, Kawaba-mura, Tone-gun, Gunma
Ryuoo Ski Park
Address

11700 Yomase, Yamanouchi-machi, Shimotakai-gun, Nagano
Map