Don't be fooled by the appearance! Striking Myoko food red yaki soba as hot as it looks?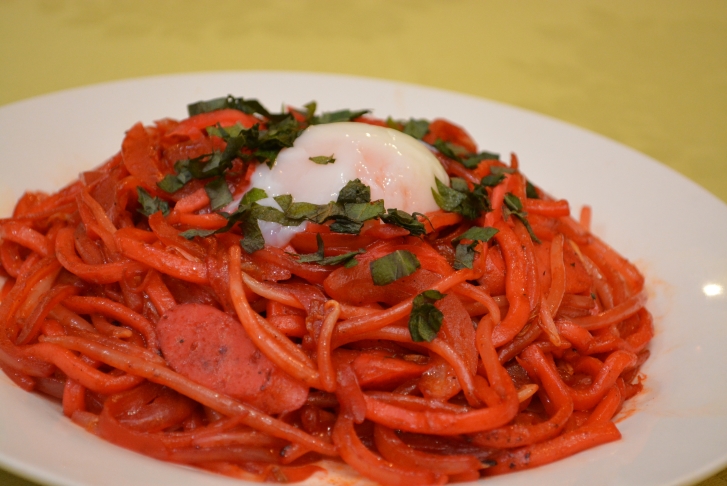 Akakura Onsen in the Myoko area has its own street food called red yaki soba (fried noodles). This treat originated from a diner called Miyoshiya in the hot spring town. The restaurant's owner devised the dish because "Aka" of "Akakura" means red. Just like its name, the yaki soba is bright red. What will it taste like?
Homely diner "Miyoshiya"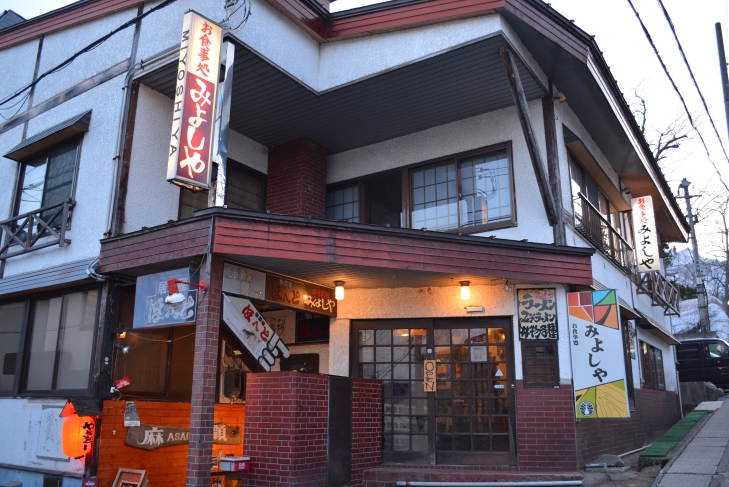 You'll find Miyoshiya on a corner of the central street of Akakura, the main street of Akakura Onsen. It's a homely diner that locals love, with a full range of ramens, rice bowls and set meals. The current owner is the third successor to the restaurant.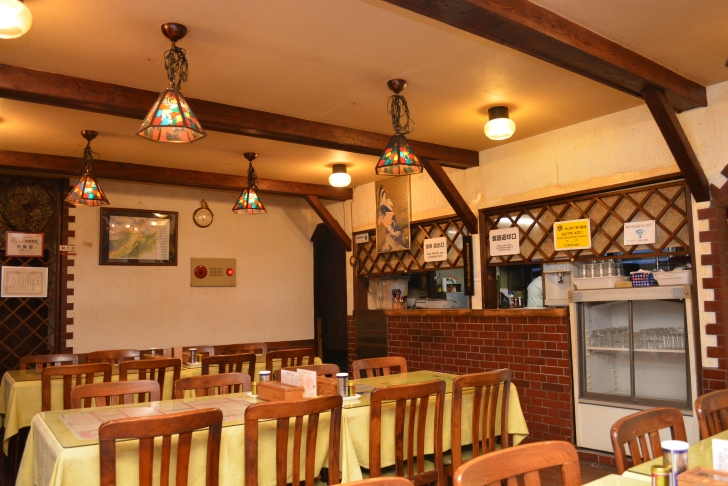 The nice and calm interior. Let's get a ticket for some red yaki soba from the vending machine at the entrance.
Unbelievably red, just like its name!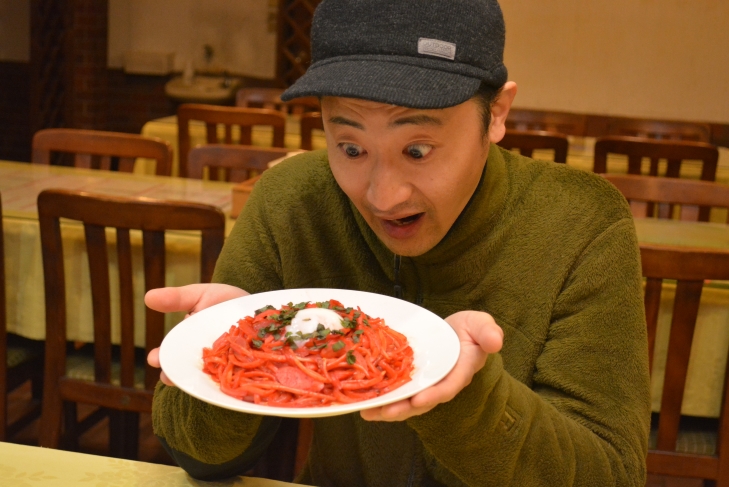 The red yaki soba comes over. It's BRIGHT red beyond imagination! Not just the noodles are red. The bean sprouts and onions, and the even the sausages are in a full harmony of red. It looks incredibly hot.
The taste is a surprise as well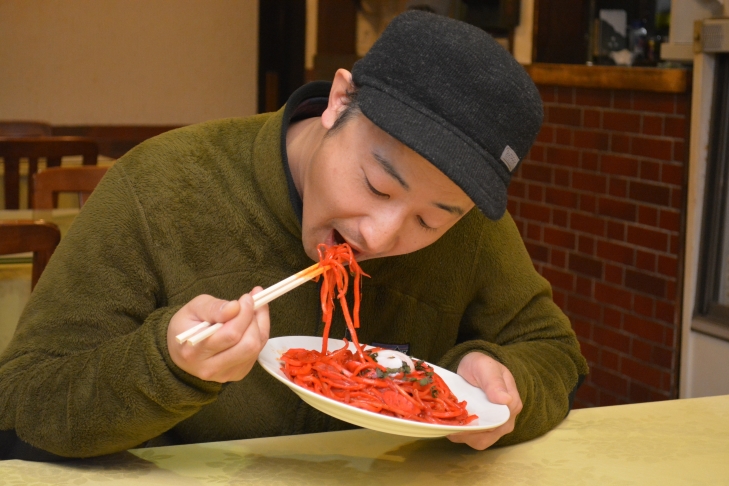 It's terrifying to bite into the noodles but surprisingly, the noodles aren't hot. Actually the dish features no hot chili; it's not spicy at all. The red color comes from highland vegetables of Myoko such as tomatoes and paprika, and the dish itself is healthy. The yaki soba is seasoned with the original flavorsome salt & barbecue flavor devised by the restaurant owner. It tastes light and fresh, and totally different from the famous Japanese "Neapolitan" tomato ketchup pasta.
It tastes milder with a soft-boiled egg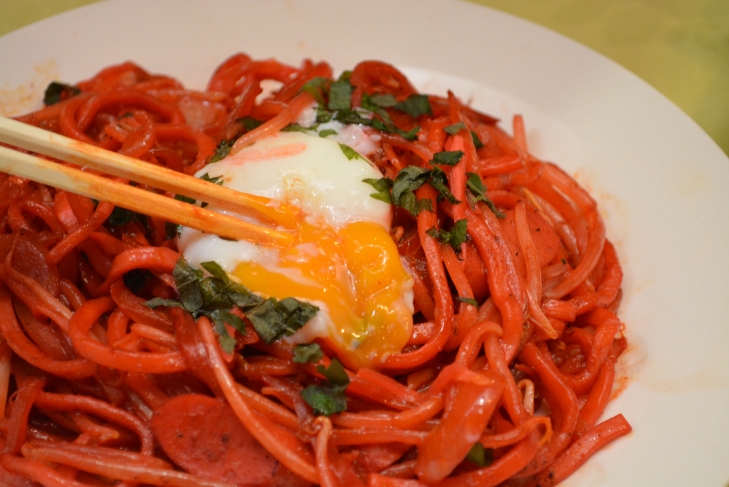 The yaki soba gets even milder when a soft boiled egg is cracked and mixed into it. The thickish noodles are made of rice flour, which is why the noodles have a soft and fluffy texture. It smells delightful with the green perilla leaves on the side. Irresistible. You won't be able to stop.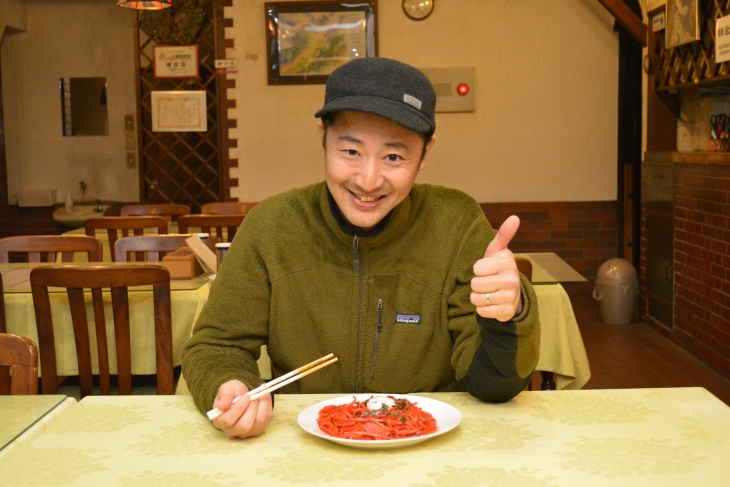 At present, the red yaki soba is served at about 10 restaurants and hotels in Myoko Kogen, mostly in Akakura Onsen. The basic recipe is the same; they all use rice flour noodles and the same sauce, but some restaurants arrange it as dip noodles, Asian flavored noodles, or with different toppings. Miyoshiya serves a smaller, half-sized portion so you can try and compare it with the red yaki soba from other restaurants. It'll be fun to go restaurant-hopping in the onsen town, trying different red yaki sobas!
photo & text: Chiho Kuriyama
Facility Information
Miyoshiya
Address

476 Akakura, Myoko-shi, Niigata 949-2111
Map