Sarugakyo Onsen and Hoshi Onsen, historic hot springs in the Minakami area
2017/11/24
Minakami-machi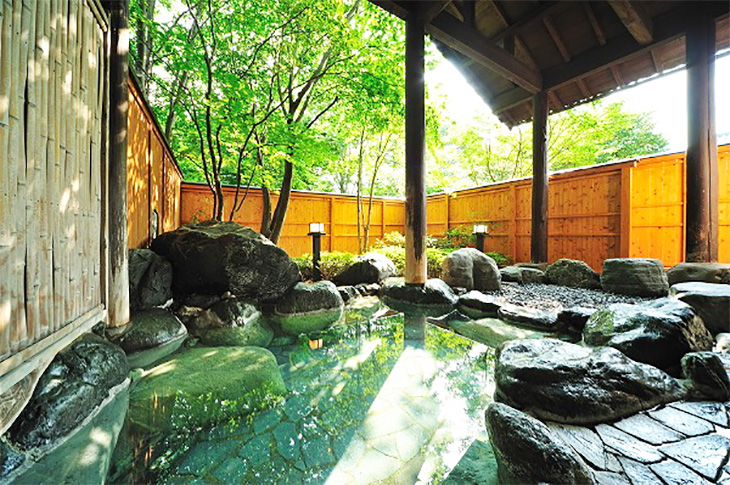 The Minakami area of Gunma Prefecture is dotted with many hot springs. This article introduces two hot springs in the area: Sarugakyo Onsen and Hoshi Onsen. Both of them have long histories that trace back to old times. They can be accessed from Tokyo via the Kanetsu Expressway to Gunma Prefecture, getting off at the Tsukiyono Exit, and driving on National Route 17, which extends to Mt Mikuni.
Sarugakyo Onsen - where legend says a monkey cured a human child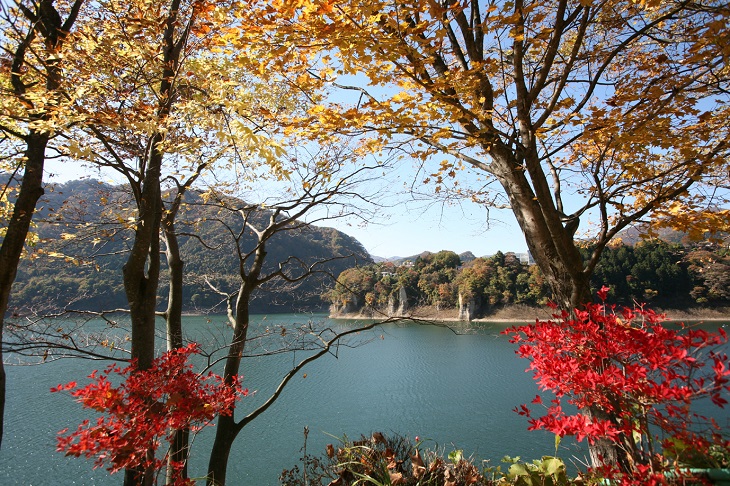 Sarugakyo Onsen is a hot spring resort area that overlooks Lake Akaya. According to folklore, the history of Sarugakyo Onsen began when a monkey (saru in Japanese) cured a burned human child in a hot spring. Monkeys still live in the mountain and are sometimes seen near houses and roads. The hot spring resort area has a variety of unique hotels ranging from cozy traditional inns to modern hotels.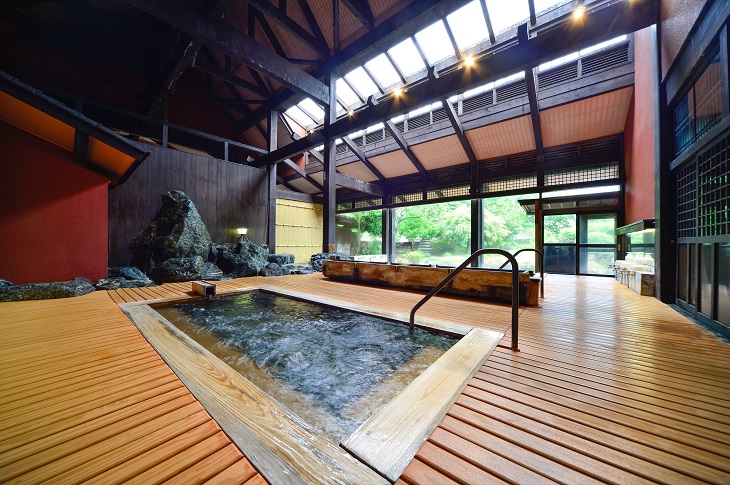 Many inns and hotels are equipped with onsen facilities that offer charming baths such as wooden, rock-bound, and outdoor ones. One Japanese-style hotel offers mixed baths. You'll find many baths scattered about the bathing area, one of which is so small that barely two people can squeeze in, making it popular among couples and families. They also schedule women-only hours so that women can avoid mixed bathing for a more worry-free experience.
The onsen water of Sarugakyo Onsen is clear, colorless, and drinkable. They also accept day visitors.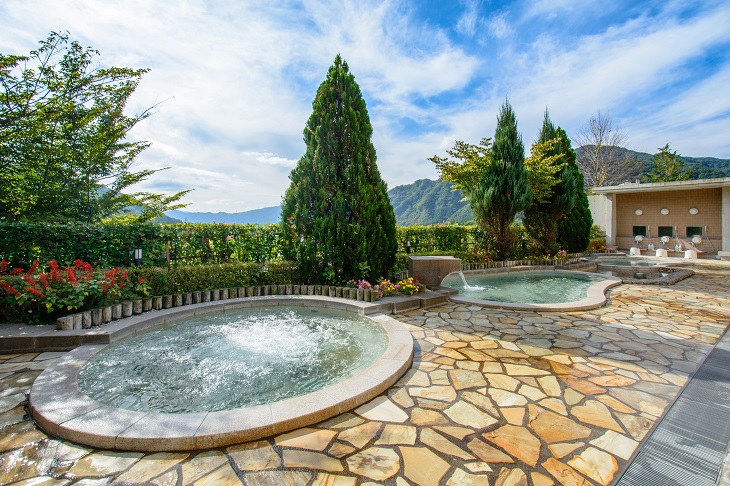 Sarugakyo Onsen has abundant clear, colorless and smooth hot spring water. This onsen is said to be effective against conditions such as high blood pressure and rheumatism, and is also drinkable. There are onsen facilities for day visitors and a hotel with an onsen for overnight guests, allowing a relaxed experience.
●Access to Sarugakyo Onsen: Near the Sarugakyo bus stop, 30 minutes by bus from Jomo-Kogen station on the Joetsu Shinkansen.
Hoshi Onsen - for a more Japanese experience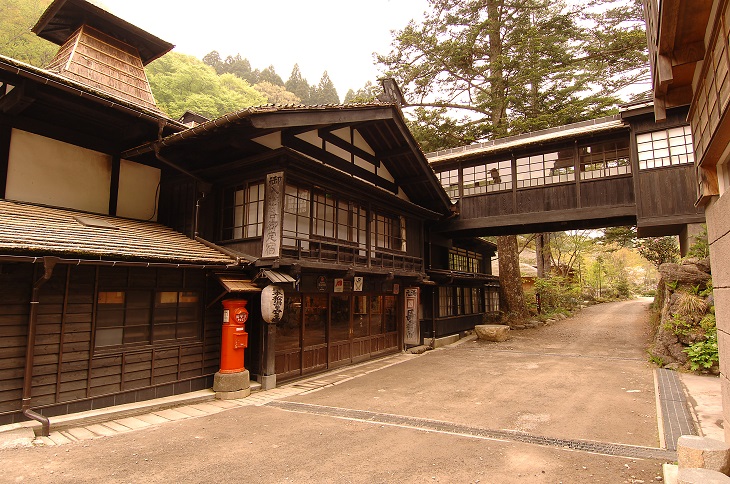 Hoshi Onsen is located deeper in the mountains than Sarugakyo Onsen. An onsen is available at Chojukan, the only hotel, which quietly stands on a mountain road. Perched beside a stream, this hotel consists of a traditional Japanese-style building. The building, rooms, hot spring - every part of this hotel captures the atmosphere of Japanese traditional culture. Their carefully prepared food, which incorporates meat and vegetables from Gunma Prefecture, is popular and will certainly satisfy your appetite.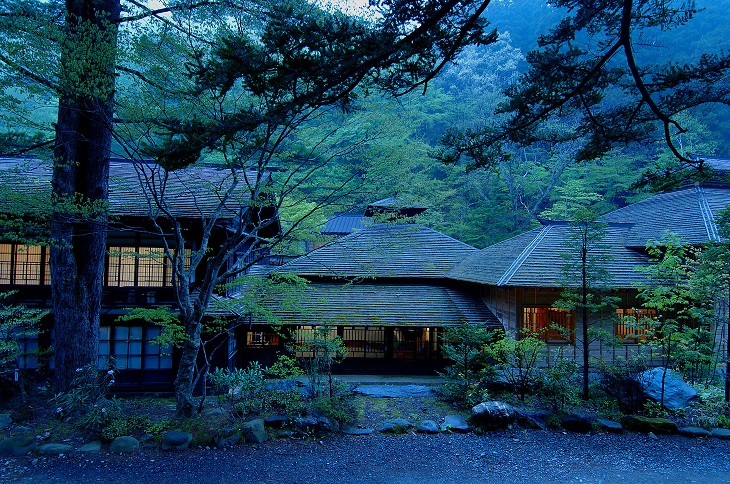 The mountain landscape changes every season from green to red and then to snowy white. At night you can enjoy the onsen under a sky full of stars.
Three types of baths to enjoy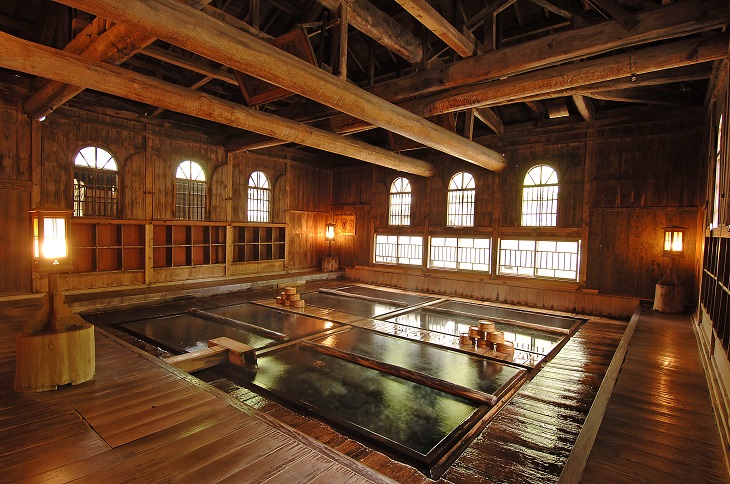 The hotel has three baths. Hoshi no Yu is a traditional onsen bath with 100% natural hot-spring water that rises from the bottom of the baths. There are separate dressing rooms for women and men, but the bathtub is for mixed bathing. The Tamaki no Yu bath is all made entirely of cedar, and switches daily between women-only and men-only once a day. If you're an overnight guest, it's available for women from 1pm to 8pm, and for men from 8pm to 7am the next morning. There is also Choju no Yu, a women-only bath.
Hoshi no Yu and Choju no Yu are available for day visitors, but Tamaki no Yu is for hotel guests. Note that day visitors can only use the baths from 10:30am to 2pm (entry until 1:30pm), but they may close the reception earlier to avoid overcrowding at this popular onsen.
●Access to Hoshi Onsen: The onsen is near the Hoshi Onsen bus stop, about 20 minutes by municipal bus from the Sarugakyo bus stop, which is 30 minutes by bus from Jomo-Kogen station on the Joetsu Shinkansen.
text : Chiho Kuriyama
Facility Information
Minakami Tourism Association
Address

1744-1 Tsukiyono, Minakami-machi, Tone-gun, Gunma 379-1313
Notes

0 minutes walk from Jomo-Kogen station on the Joetsu Shinkansen
Map