Not skiing or snowboarding? No worries: Great snow activities at Tomamu!
2018/11/12
Hoshino Resorts TOMAMU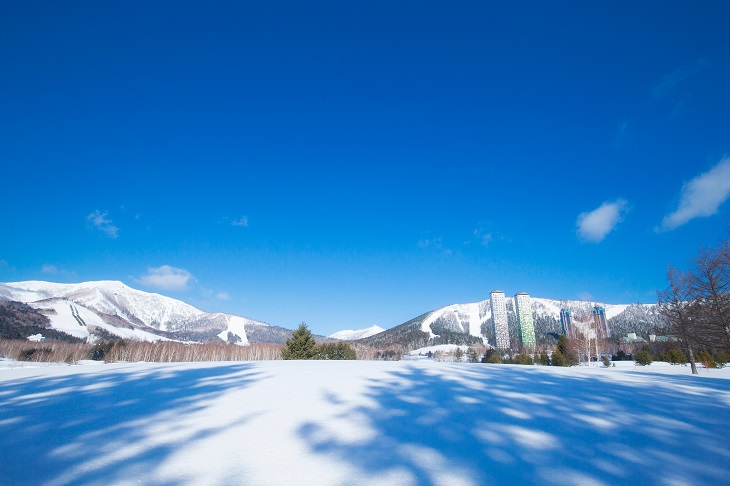 Recent years have seen resorts offering all sorts of activities, but Hoshino Resorts TOMAMU's activities are in another league altogether, perhaps some of the best in Japan! You can try these activities between skiing and snowboarding, or even if you don't ski or snowboard at all, there are plenty of opportunities to enjoy the snow country!
Snow buggy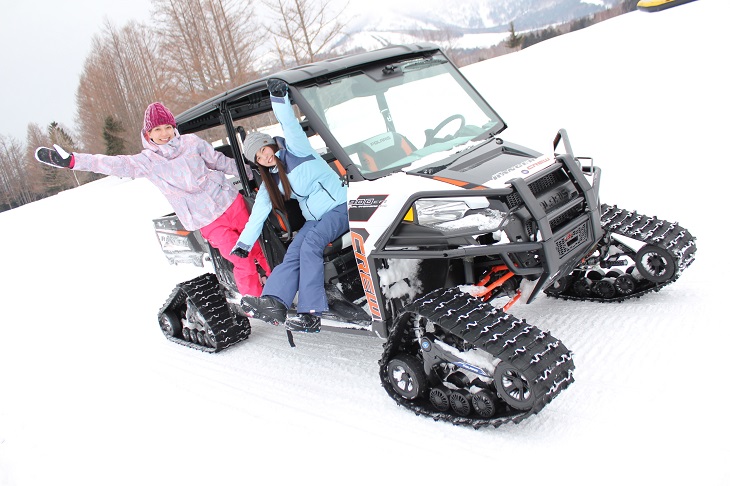 Take a seat on a 4WD snow buggy and the guide will drive you around the vast winter wonderland. Whether it's feeling the spray of snow as the buggy charges along hilly trails, or marveling at the view of Hokkaido's natural landscape, you'll get to experience Tomamu from entirely different perspective. The buggy can accommodate up to 4 people, so bring your family or friends along for the ride.
Snow rafting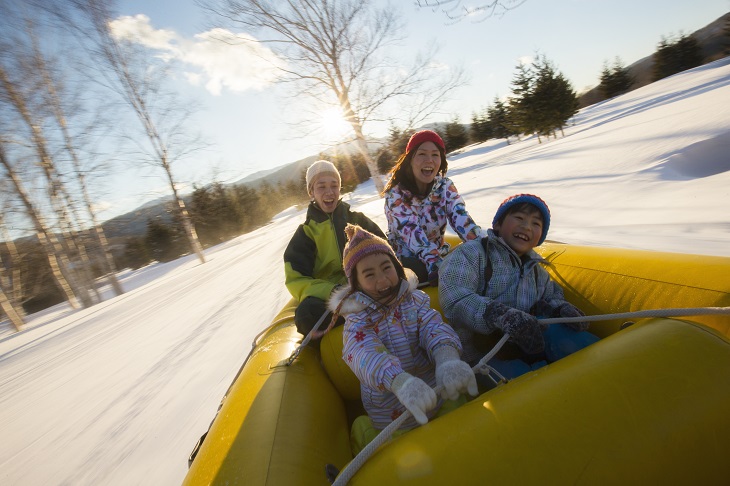 Climb aboard a rafting boat for a hair-raising sprint across the snow, towed behind your guide's snowmobile. It feels even faster than it looks, and makes an exciting adventure for adults and kids alike. And don't forget to hang on tight. Like a thrilling amusement park ride, at times those curves and bumps will feel like they're going to shake you right out of the raft!
Snowmobile ride across a great snowfield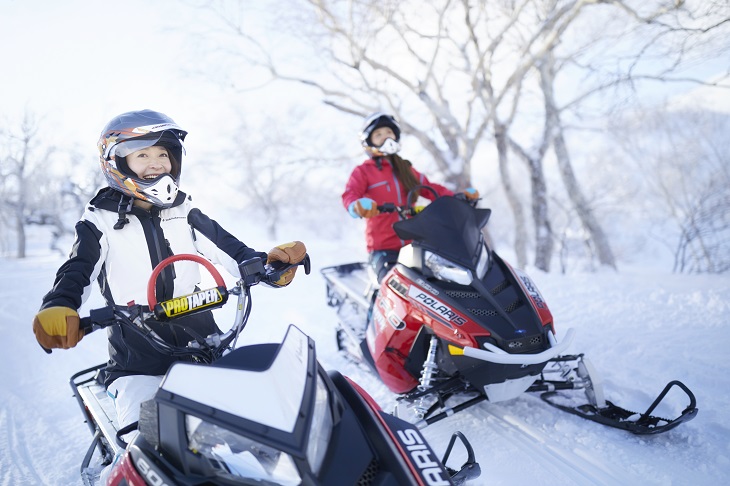 First-timers on a snowmobile need not worry. Your guide will give you a full lecture before setting out to explore the snowfields on a snowmobile tour. Children can also enjoy the ride as long as they are accompanied by a guardian, so it's a great way for the whole family to discover the natural beauty of Tomamu together. Once you're used to the snowmobile and are looking for a bit of a thrill, gradually increase your speed and savor the sensation of zooming across vast fields of soft powder snow!
Snowshoeing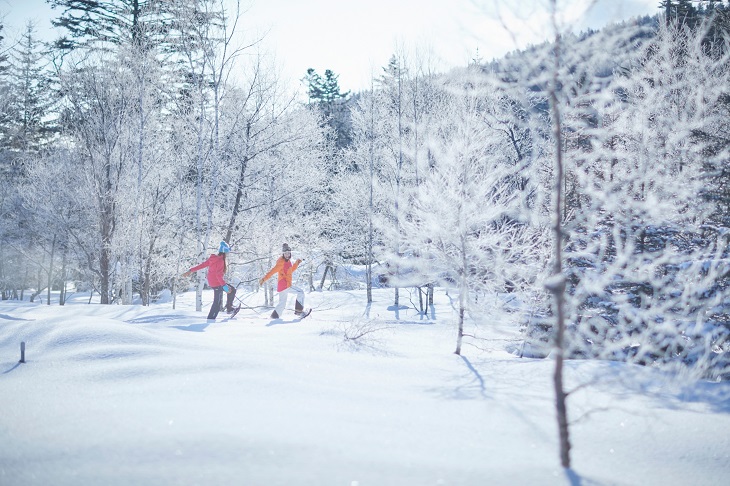 If a slow stroll across the great snowy landscape is your thing, give snowshoeing a try. Snowshoeing opens up snow-laden forest that's normally off limits during winter. Why not join a guided tour, which will ensure both safety and fun thanks to the guide's fascinating stories. Keep an eye out for local wildlife, too - you'll never know what animals you might spy. Even small children will fully enjoy the pleasure that comes from snowshoeing.
Making baum kuchen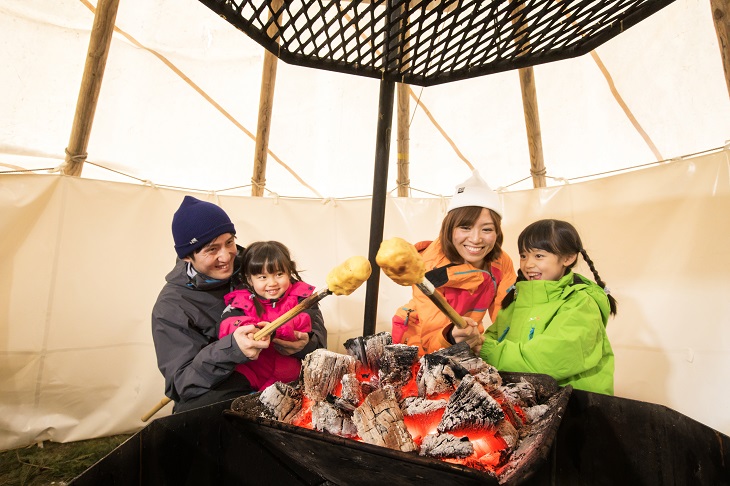 Venture inside a charming tent called "kota" and make baum kuchen over a charcoal fire. Simply wrap a thin layer of the baum kuchen dough around a bamboo stick and rotate it over the fire. Once it gets firm, put another layer on top and bake it again. After doing this routine a few times, you'll have a handmade piece of baum kuchen! Freshly baked and tasting superb!
For snow-loving girls who don't ski or snowboard!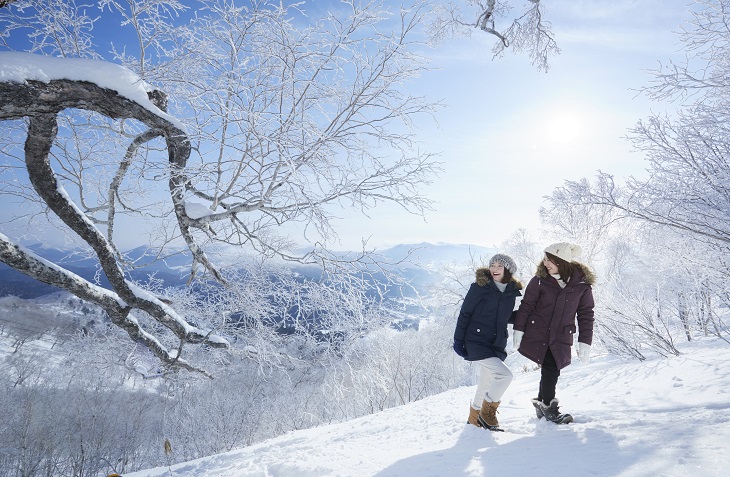 If you're a snow-loving girl who enjoys winter mountains without skiing or snowboarding, the resort offers a special accommodation plan.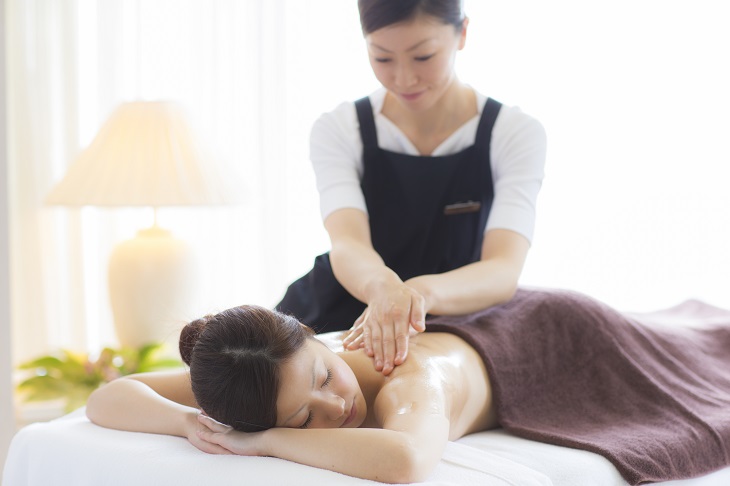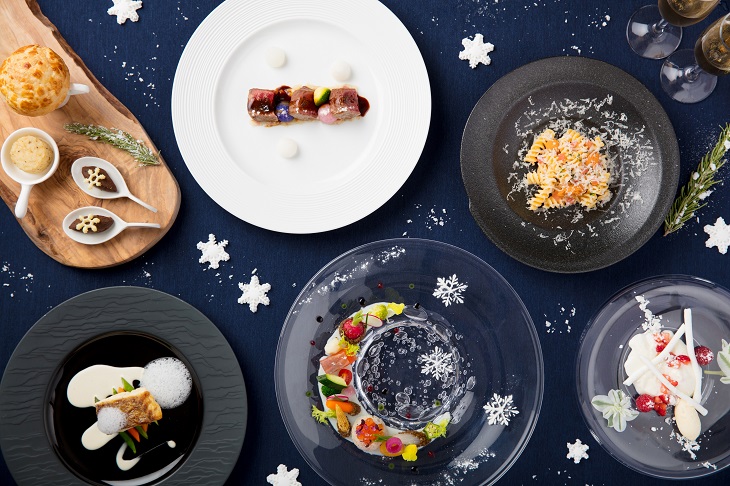 It's packed with photogenic opportunities, including a stay at a suite at RISONARE Tomamu, a spa treatment and jet bath to loosen up your body after playing in the cold outdoors, and a snow dinner themed on the snowy landscape! Your friends will turn green with envy when they see how much fun you're having in Hokkaido's white winter wonderland!
text: Natsuko Saito
Facility Information
Hoshino Resorts Tomamu
Address

Nakatomamu, Shimukappu-mura, Yufutsu-gun, Hokkaido 079-2204
Map